Does smoking a joint, or eating an edible get you fired up? Well, you're not the only one...
Ask 100 random people what the effects of smoking weed are, and you'll get a pretty wide range of responses - hungry, happy, giggly, sleepy, lazy, focused, relaxed - but one answer that may surprise you is… horny.
For the longest time, I thought I was a bit of an outlier when it came to getting revved right up when I smoked, but in recent years I've come to understand that I'm anything but.
And thanks to the current wave of legalization, and the opening up of research opportunities that have come along for the ride - we now have some pretty solid, peer-reviewed science to back it up. So, stick around, as we dive into why cannabis can get you a little hot under the old collar, the dosage you should be looking for, and if there are certain strains you should be focusing on if you want to pick that libido up.
Is It Normal for Cannabis to Increase Arousal?
One hundred percent it is.
If you are anything like me, you might have thought that you were a little different from the crowd. Pop culture bombards us with these weed-smoking stereotypes, but an increased sexual drive while lit isn't something that's often discussed, at least not as frequently as being a couch potato is. But again, thanks to the shift in cannabis legislation, and in the public view on what marijuana (and the people who choose to enjoy it) actually is, we are starting to see it become a more mainstream idea.
Sex sells, and it seems like cannabis companies are starting to catch on. The amount of products that have hit dispensary shelves in the last 18 months that are pushing the idea that cannabis can have a positive impact in the bedroom is pretty wild - from gummies to vape pens, and (unsurprisingly) a bunch of dosed cremes and lotions. We are living in the age of cannabis, and with it, we are seeing the rise of weed as a modern-day aphrodisiac.
But is the science actually there to back it all up? Let's take a look...
What is the effect of weed on sexual arousal?
Weed can increase your libido and make you feel horny. This is because it heightens your senses, makes you feel relaxed and lowers your inhibitions. Although, the effects vary from person to person, with some people saying that it makes them feel so relaxed and sleepy that it has the opposite effect on them.
What is the endocannabinoid system?
The endocannabinoid system (ECS) is a network of receptors and chemical signals throughout our brains and bodies that regulate mood, emotion, pain, sleep, immune response, cognitive function and appetite. It is thought that through this interference cannabis is able to play a role in our libido.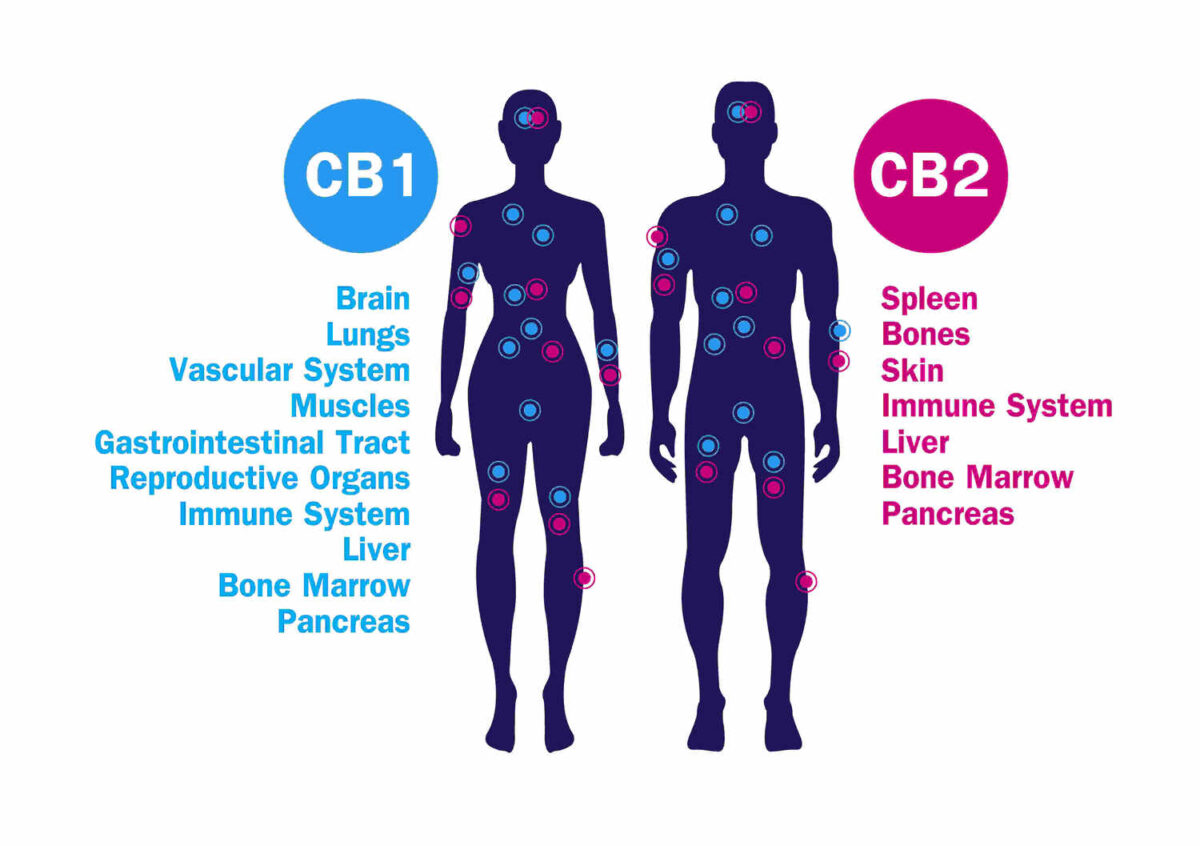 What's The Science Behind Cannabis and Arousal?
Ok, so the study of how cannabis actually affects sexual function and arousal is still in its infancy, but there are a couple of very interesting studies that we can take a peek at.
The first, a 2017 publication from the Journal of Sexual Medicine is the largest (so far) in terms of the number of participants. This study was first commissioned as the use of cannabis was, at the time, heavily on the rise. Researchers were keen to find out how this increase in usage may affect the sexual function of casual and regular cannabis smokers.
This particular study, which was carried out by the Center for Disease Control (CDC), asked 28,176 women and 22,943 men with an average age of close to 30 years old to answer an extensive range of questions relating to sexual frequency, pleasure, and function when stoned. The results were very clear - that not only was sexual arousal heightened after smoking weed (or eating edibles) but also sexual satisfaction during and after the act was also increased.
This study also found that both men and women who consume cannabis - no matter if they were monthly, weekly, or daily smokers - had a much higher frequency of sexual encounters. The final conclusions of this particular study found that there is an obvious "positive association between marijuana use and sexual frequency seen in men and women across all demographic groups".
Then there is the 2019 study published by the National Library of Medicine on pubmed.gov which looked at the specifics in a little more detail. While this was a much smaller-sized group, with only 216 questionnaires completed, the results back up the earlier study.
The respondents were asked about how cannabis affected their desire for sex, their satisfaction after sex, the intensity of their orgasms, their ability to focus during sex, and their levels of relaxation during and after. While only 38.7% reported that "sex was better", 58.9% said cannabis increased their desire for sex, 65.7% reported increased intensity of orgasms, 69.8% said they could relax more during sex, and 50.5% said they were better able to focus. Pretty clear results.
We should note that 4.7% of the study participants did report that sex was "worse" while stoned, so it seems that cannabis and sex combo may not be for absolutely everybody, but definitely for the overwhelming majority.
One thing that was noted in both studies is that there was a heavy increase in the sensitivity and satisfaction of touch felt by the majority of participants, and the ability to feel fully relaxed and present during sex.
These studies both heavily point to the fact that, when consumed in the correct amounts, cannabis can have a hugely positive impact on bedroom activities. Whether as a prelude to sex, during sex itself, or post-coitus - cannabis can be used in a variety of ways to increase pleasure, relaxation, and desire.
Of course, it is worth mentioning that as with any recreational drug, moderation is key - the ability to be present in the moment seems to be absolutely key to finding enjoyment, and while cannabis can help enter that super focused state, it can also take away from it if too much is consumed.
Does Weed Make Men or Women More Aroused?
The studies show pretty clearly that both men and women see a marked increase in sexual arousal and satisfaction when weed is thrown into the mix. This could be to do with the fact that cannabis is known to increase blood flow and release oxytocin - both key components in sexual pleasure. It has also been suggested that cannabis' ability to reduce anxiety and stress can be hugely beneficial in the bedroom.
Again, the dosage is absolutely key, as is finding the right strain. Everybody reacts differently to different types of weed - and if you're not feeling the right effects, it may be worth swapping out your chosen strain for something that you find works better for you.
Ultimately, it is important to remember that everyone has different reactions to cannabis and sex - and what works for one person might not work for another. But it is clear that done correctly, cannabis can have a hugely positive effect on bedroom activities - leading to heightened orgasmic experiences, and an increased ability to relax and focus.
Can Dosage or Method of Consumption Increase Stimulation?
Yep, for sure.
We have already discussed the fact that the last thing you want to do before jumping under the sheets is to blast right off, but how do you find that perfect dosage or the best way to get that perfect feel?
Firstly, it is important to consider the method of consumption - while smoking or vaping provides a quick hit, edibles and capsules take a much longer time to kick in. This could be beneficial for those looking for a more gradual buildup of stimulation, but it does come with the risk of overdoing it, if you don't quite know your limits.
It is important to consider the amount that you are taking - a very small amount can provide stimulation, focus, and relaxation, while too much will take you away from the moment. Finding the perfect balance between being present and relaxed can take some practice, so it is important to start small and work up as you get to know your body's limits.
Ultimately, it's about experimentation. There's no one right answer that will cover everybody's needs, so trial and error is the best way to find out what works for you. And to add to that, you will probably find that the dose you are comfortable with may be a little different from one day to another - so listen to your body and adjust accordingly. In general, the results point to it being a less is more sort of situation.
Keep in mind that cannabis is not for everyone - if you are the type of person that reacts negatively to weed then it's probably best to steer clear of it in the bedroom. But for those who find their eyes fluttering, bodies tingling, and minds racing with pleasure - cannabis can be the ideal addition and can truly spice things up.
What Are the Best Weed Strains for Sex?
Maybe a better question is, do strains really matter?
Possibly. The jury is still out on this one.
What we can say is that we know that certain strains produce certain effects. Some strains are great for pain relief and relaxation, others for reducing stress and helping with focus.
The more we look into exactly how weed interacts with the endocannabinoid system, the more it seems to point to the fact that the old Sativa vs Indica thinking may be a little outdated. Recent research and published studies have put forward evidence that points to the entourage effect.
The entourage effects? What is this exactly?
Well, the entourage effect is a theory that suggests that the various compounds in cannabis can interact with one another to produce different effects. The old Sativa/Indica split seems to be a bit of a red herring, as it is the combination of cannabinoids and terpenes that truly matters. And while we are slowly beginning to get a better understanding of how these cannabinoids and terpenes interact with each other, we still haven't even isolated every single cannabinoid - meaning there's a bunch more research that needs to be conducted before we make any bold claims.
But, for those looking to find a cannabis strain that can increase sexual drive, you might want to look into options that have high levels of limonene and are Indica dominant. Limonene is known to be an uplifting terpene and can provide a heightened sense of sensual stimulation. Indica-dominant strains are known to be more relaxing, which can be helpful with you getting into the moment, and letting your inhibitions melt away. If you struggle staying present and focused check out this Limonene Terpene Cannabis Seed Pack, the selection of limonene dominant seeds is a real treat
If you struggle with sexual anxiety, you might want to look for a strain that comes from the Kush genetic lineage. While the evidence is purely anecdotal at this point, there are a bunch of reports pointing to Kush-based strains helping with the reduction of anxiety. The best Kush strains currently available include
If you're wanting to increase your touch sensitivity, then you might want to give a balanced CBD/THC strain a go. CBD used to be a rarity, but in the past 2 years, we have seen a huge increase in options. Our favorites right now are
Conclusion
So, there you have it. The evidence couldn't be clearer - for the overwhelming bulk of cannabis smokers, the wonderful herb will increase their sexual drive and pleasure. The best way to find the perfect strain for you is to experiment, keeping notes of your experiences along the way. This way, you can develop a more nuanced understanding of each strain.
Once you find the perfect match for your needs, it's time to get down and dirty. Good luck, and hey - have fun!