With a genetic lineage that screams quality, a terpene profile that offers one of the most delicious and fragrant flower options on the market, and a plus 25% THC count, it should come as no surprise at all that the Gorilla Cookies strain is up there with the most coveted cultivars of the past few years.
Let's take a few steps back, and check out all the reasons why Gorilla Cookies has quickly become one of the top-selling strains in both seed and flower form...
Gorilla Cookies Strain Information
The first version of Gorilla Cookies to hit the market came hot out of the breeding lab of Elev8 Seeds, who are the mad scientists of Mary Jane responsible for huge-hit strains like Lemon Runtz, Forbidden Cake, Queen Harley, and Magic Monkey.
There is zero doubt that Gorilla Cookies has been their most successful strain to date, with this Sativa-dominant hybrid bringing potency and flavor together in an unbeatable combination.
As the name probably suggests (to most stoners in the know), the lineage here is nothing short of top-class. On one side we have Gorilla Glue #4, famed for its huge 30%+ THC content, and on the other, we have Thin Mint Girl Scout Cookies - the best GSC direct descendant to date from the Cookies family genetic line. A marriage that was truly made in ganga heaven, with the resulting strain more than living up to the hype.
Gorilla Cookies is a 70/30 Sativa-dominant strain that typically grows into beastly-sized ladies, and the yield potential (when cultivated in the correct conditions) is right up there with the best. The THC content can reach as high as 28% (although most phenos top out closer to 23 to 24%), and the CBD count is usually below 1%.
Is Gorilla Cookies Indica or Sativa?
Both! The 70/30 split of genetics offers a varied and interesting high, but we will dive into what you can expect, effects-wise, a little further down. It's these Sativa genetics that allow Gorilla Cookies to grow so large, especially when planted outdoors early on in the season.
What Is The More Dominant Strain In Gorilla Cookies?
Working out exactly which side of the family tree Gorilla Cookies takes after most is tricky. To some extent, it all depends on which phenotype you get your hands on - as with any strain, there are slight variations in the type of high and growth characteristics depending on which pheno you find yourself cultivating or smoking.
However, what we do know for sure is that this hybrid has inherited more of the Gorilla Glue attributes, as the heavier Sativa dominance means that it leans more towards the GG side of the equation.

What Is The Terpene Profile Of Gorilla Cookies?
As mentioned in the intro, the terpene profile of Gorilla Cookies is about as delicious as any strain has ever offered. Nuanced, interesting, sweet, spicy, and floral (and don't forget those hints of mint) in equal parts - the terps make this one a real pleasure to smoke, vape, or however you prefer to consume.
The primary terpenes present are myrcene, limonene, caryophyllene, D-Limonene, and linalool.
What Are The Effects Of Gorilla Cookies Weed?
Now to the fun stuff - what does it feel like to smoke Gorilla Cookies?
Unlike many of the higher THC content strains that have flooded the scene in the past few years, Gorilla Cookies does a great job of keeping any feelings of couch locking at bay. Beginning with a clean and clear cerebral ride, the initial effects are energetic with a dusting of creativity thrown in. Mood elevation is the name of the game, and those feelings continue on as the effects modulate more to the Indica side of the scale.
After 20 to 30 minutes, you will notice the stress-relieving and body-relaxing effects enter the game, and they linger for a surprisingly satisfying time. That's not to say there's a pure crash like some other hybrids offer, not at all. More like a gentle sway away from the initial energetic high, and into a mellow sense of contentment.
In essence, Gorilla Cookies weed is an ideal daytime smoke that will keep you energized, focused, and slowly lull you down to a state of pure relaxation. Perfect for the creative types out there, or anyone who wants to find that balance between being productive and chilling out.
What Do Medical Users Say About Gorilla Cookies Weed Strain?
Most medicinal patients agree that the Gorilla Cookies cannabis strain is a great option for those looking for relief from issues related to anxiety, depression, chronic pain, and sleep problems. It can also really help those with eating or hunger issues, especially patients on medication that causes a decrease in appetite.
For those looking for something to help with nausea or digestive issues, Gorilla Cookies may not be the right choice.
How Potent Is The Gorilla Cookies Strain?
The potency of a particular bud is based on a few key factors. Phenotypical variation of course plays a huge role, but so do environmental factors. Things like the amount and the quality of the lighting, temperature, humidity, and nutrients all influence THC concentration.
On average, Gorilla Cookies weed tests between 20% to 23% THC content, but there are regular cases of GC plants reaching the plus 25% mark.
So, How Good Is Gorilla Cookies Weed Strain?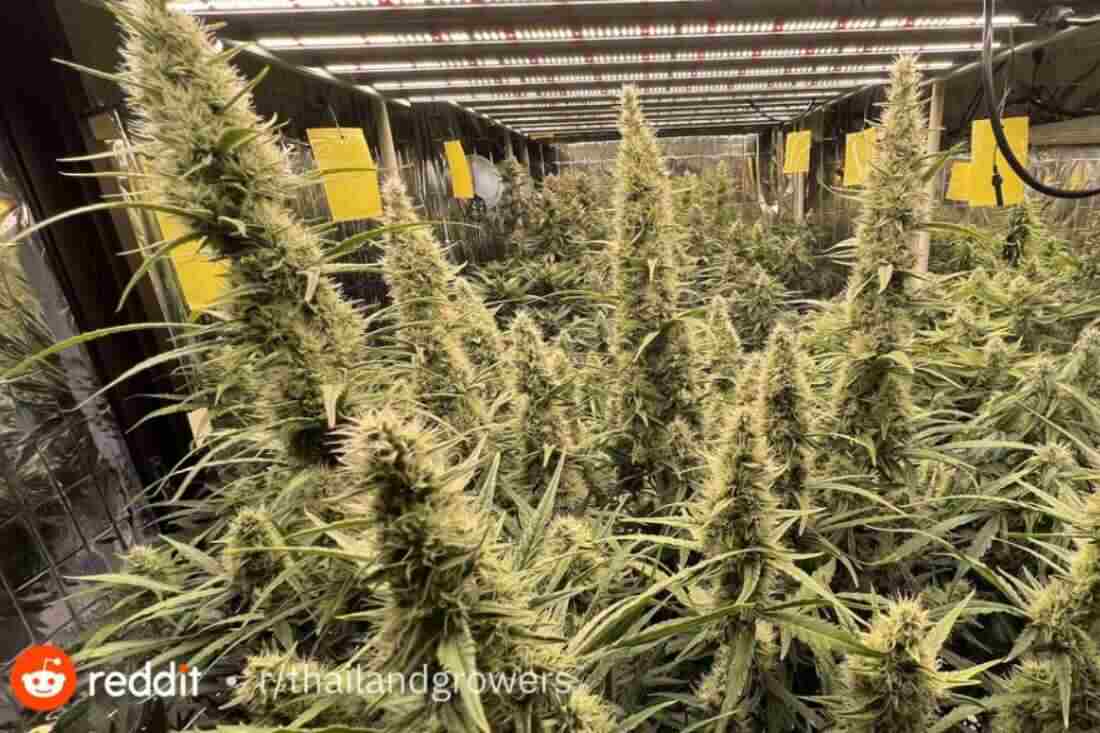 Short answer? Good, really good.
Long answer?
The Gorilla Cookies cannabis cultivar is hands down one of the most highly sought-after strains to ever grace dispensary shelves. Seed banks are constantly selling out of Gorilla Cookies, and even in recreationally legal states, it can be next to impossible to get your hand on both flower and seed.
Gorgeously covered in the frost of trichomes, smelling better than freshly baked cookies themselves, and with a flavor that can't be beaten — Gorilla Cookies is always worth trying. The effects are perfectly balanced, providing the perfect combination of mental stimulation and physical relaxation. Medicinally speaking it's good for a huge scope of issues with nausea and digestive issues being the only obvious caveat, and recreational users will find themselves in a happy place no matter what time of day they choose to indulge.
Go on, grab some. You'll be happy you did...