The taste of chocolate without the calories, sugar or fat together with plenty of pain-relieving THC. What's not to love about Chocolope?
The History of Chocolope
The 1980s was the era of denim jackets, Cyndi Lauper and chocolate marijuana strains. Of course, time changes, but some things always stay the same. DNA Genetics created Chocolope to update the 1980s chocolate strains for the 21st century and beyond.
They crossed Chocolate Thai with Cannalope Haze to produce a strain which is almost 100% Sativa, with a taste which leaves connoisseurs delighted.
Effects & characteristics
Even though Chocolope is a pure Sativa, its THC level is fairly moderate by modern standards. Chocolope has a more comfortable level of potency at 17%. It will have you feeling like you have a sugar rush, as it gets to work really quickly. However, it also wears off really quickly too. So you can enjoy more! It's the perfect daytime strain for when you need to get up and go.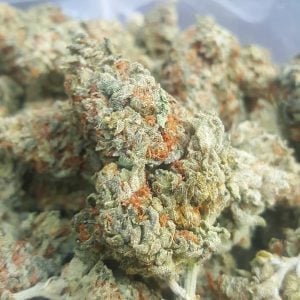 In addition to its pain-relieving qualities, Chocolope delivers a refreshing, energizing, motivating and creative high. If you're get up and go has got up and gone, it will find it again for you. Chocolope can make you quite chatty, which makes it a great strain for social occasions.
Chocolope is all about fast-acting pain relief and a blissful head high. There really isn't all that much in the way of a body stone. This is another reason why it's best suited to daytime use.
Taste-wise, Chocolope resembles the world's most decadent breakfast. Obviously, the headline flavour is chocolate,. But there's also a cocoa/coffee element along with plenty of melon as well. In fact we'd say the flavor was about 50/50 chocolate and melon, with a dash of cocoa/coffee for good measure.
Grow information
Strains with Haze genetics are notoriously challenging to grow. Having said that, the fact that the strain exists at all is proof that it is possible. If you're up for the challenge, you will be rewarded with some of the most scrumptious marijuana around.
The first point to understand is that Chocolope likes to grow and left to its own devices, it will happily clear the two metre mark. This means you either need to have a lot of grow space at your disposal, or be prepared to tackle plant training.
Secondly, Chocolope takes its time to grow. Although in fairness to Haze, this is actually due to the Chocolate Thai genetics. In fact, the Haze parentage actually brings down the growing time, from the 14 weeks to a more reasonable 10 to 12 weeks. If you can keep Chocolope happy, you can expect around 600g/m2.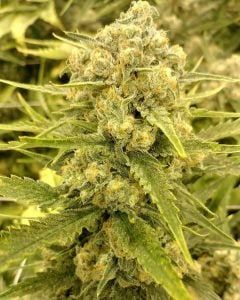 Chocolope can be grown outside. However, there are two reasons why you might want to think twice about this. The first is that the lengthy grow period means that Chocolope will only be ready about the end of October, or early November. So autumn frosts can become a concern in even the sunniest of locations.
The second is that it is a moderately difficult strain to grow, so better results will be found indoors in a controlled environment. If you do manage to keep Chocolope happy outside, then you can expect to harvest about 900g/pp.
You'll need to keep a close eye on your plant due to low tolerance for mould. So make ventilation a top priority. Odour control should also be high on your list of essentials when setting up your grow space.
Chocolope likes to eat and drink a lot. In fairness, this is pretty much par for the course with Sativas. It's just that Haze strains, like Chocolope tend to be particularly quick to make their feelings known. When you give them either too much, or too little food and/or water.

Summary
If you can manage a strain like Chocolope, not only can you count yourself a serious marijuana grower, but you will be the proud owner of some of the most delectable buds around with excellent medical benefits.
Check out our hottest sales deals by clicking here.