×
COVID-19 Corona Virus - We are monitoring the situation as closely as possible but it is changing daily. We are currently still able to process orders and ship them as normal, however as different postal services around the world adopt different restrictions we are experiencing delays in items arriving outside the EU. Please be patient, your order will get to you.
Our master breeders love a challenge and so when they set about crossing two of the greatest strains in the world they knew they had to step up to the plate!
They crossed the multi-award winning and incredibly popular super lemon haze with the one and only OG Kush. But that's not all, they also made it an auto, so anyone can enjoy these awesome genetics regardless of skill or location.
What makes Auto Lemon OG so special is the incredible flavours that overwhelm your taste buds when it is smoked. The sharp lemon hit is rapidly mellowed into a smoother and sweeter sensation as it blends with the classic Kush undertones. The high is just as spectacular. The Sativa dominance prevails with more of the feelings centring around your head rather than it having a stone or couch locky feeling; however there is a very pleasing mix due to the ruderalis and OG genetics that make the overall experience very well rounded.
Auto Lemon OG finishes fast, from first leaves to harvest it can be as little as 65 days. The plant will grow slightly taller than an average auto but still well under 100cm, even in hydro. It can be prone to stretching if the lights are too far away, but even a basic setup should reward you with up to 70g per plant. For more experienced growers or with more substantial lighting, yields of 100-120g per plant are not unusual.
Auto Lemon OG is one of the tastiest strains available as an auto, and is a sure fire must try for any grower that is looking to maximise flavour as quickly as possible.
| | | |
| --- | --- | --- |
| | THC CONTENT | 15-18% |
| | FLOWERING TIME | < 8 WEEKS |
| | TYPE / OUTDOOR | INDOOR/OUTDOOR |
| | OUTDOOR HARVEST | May - Early October |
| | PLANT HEIGHT | MEDIUM 100cm-180cm |
| | YIELD | 300 - 400g/m2 |
Tasting Notes
Auto Lemon OG is all about the taste. Its pedigree is some of the finest in the world and that carries through into every aspect of this strain. The aroma of the plant is a more citrus pine smell and it is not until the later stages of flowering that the Kush begins to come through more noticeably. When smoked pure, through a bong or pipe, you get the full effect of that lemony goodness straight away. The citric acidity assaults your nostrils in an almost acrid wave, but this will very quickly disappear as your taste buds pick up the slightly spicy characteristic Kush flavours.
The high is a slightly cerebral, all over buzz that maintains some of the expected OG body stone. A great all round smoke that can be enjoyed any time of day without feeling to lethargic.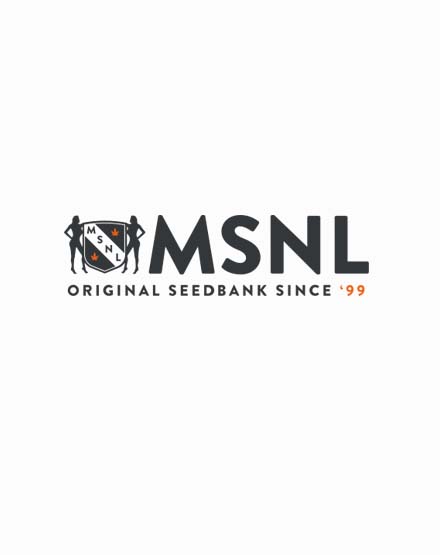 Reviews
"Great to grow"


Review by mitch

This strain was very easy to grow, very fast and very enjoyable

(Posted on 18/12/2019)

"Another Winner from MSNL"


Review by Matthew

I was very tempted to write my review earlier, but restrained myself. (I hate reviews that say, "Just placed my order today. Can't wait!" What are you reviewing, the company's ability to accept payment???)

I received these as freebies as well. From my experience MSNL knows exactly what they're doing. The "freebies" are generally not just the seeds that aren't selling, they are seeds you will probably want to order again. MSNL's Lemon OG is no exception. Few fast but stayed very short considering that haze genetics, but this could be because of my light set-up. I actually recommend you take advantage of the stretch to increase the internodal spacing. It will make manicuring and harvesting easier. This one had a pretty high leaf to flower ratio. I actually did some heavy defoliation three times! I did no training, but would recommend LST. As someone else mentioned, this is one of the thirstiest plants I've encountered! Still a very easy plant to grow. 5 gallon DWC with 400w (true watts) LED. I never went above 1/2 strength nutrients. 75 days from seed to harvest. I got 2 1/2 oz. off one plant. Not outrageous, but not bad for such an easy autoflower.

As soon as she started flowering she put off an amazing sweet lemon scent. Very resinous. The scent seemed to dial back a bit closer to harvest but rebounded after only 2 weeks of curing to produce a very smooth, sweet, lemony, lemony, lemon smoke. The effects are a quick, warm, relaxing sensation from head to toe. Nice relaxed euphoria with an overall sense of well being. Great strain for socializing with serious giggle potential. No anxiety. No paranoia. None. For you Indica lovers or those prone to THC induced anxiety, you really may want to give this one a try. An hour or so in the cerebral effects subside a bit and the effects can be felt a bit more in the body. This strain is good for medicating or adult recreational use. I do recommend this strain for anyone but cash croppers. MSNL hits another home run with this one.

(Posted on 13/04/2019)

"Fast Yield - Great Smoke"


Review by Raven

I grew two indoor in 27 liter pots under 1000w and yielded 400g prime gear in two months. They were a little thirsty, could be due to my environment, but the smoke (vape) they produced was very pleasant indeed. Great Sativa!

(Posted on 10/02/2019)

"fun freebee"


Review by Donna Marie

This was one of the freebees I received. It was the easiest hands down...auto is the way to go. Lots of buds. The buds where very compressed, I had to keep it well aired. I think I let it mature just a bit too long. Once it was dried properly the taste was really nice...I don't taste lemon though. This stuff is a silly stone, your kinda semi in la la land, definitely not high functioning...alcohol is ok with this one if wasted is the destination. I have jars of it so I have been mixing it with sunset sherbet. I call it sunshine and lollypops...the name says it all.

(Posted on 25/01/2019)

"Out of this world "


Review by Anthony

I got these as free seeds. And this is my second time with this strain now. My first attempt was also my first grow. I yielded about 1 and a quarter oz.. per plant then. But, Now on this grow.... I ran these along side 3 sour diesel autos, both in fox farm ocean forest soil, filling 3 gallon fabric pots with 4- 450 viperspect led lights, and NO NUTRIENTS!!! and the lemon og trumped the sour diesel. Even with fox farm trio, nutrient formula, going into the sour diesel autos only,
(ran at exactly half of suggested strength). And by an average of 3/4 of an oz. Each lemon og won hands down, the smoke was even better. At the end, 3 lemon og's totaled 219 grams (dried and cured for only 3 weeks), of some of the best smoke I have ever had. This was an easy grow. And this plant is not nutrient hungry... great yield, great smoke, and cost effective.

(Posted on 05/01/2019)

"Awesome yeild "


Review by Happy

This auto strain returned more than 100g per plant on an outdoor grow. Surprisingly high yeild for a auto. Pleasantly surprised, keep up the good work.

(Posted on 15/01/2018)

"1/5 plants survived"


Review by Coco

!/5 plants survived this was most likely growers error. This was my first attempt at growing autos and i grew them outdoors in socal. The plant that did survive was great though. I might try growing this strain again indoors.

(Posted on 13/10/2017)

"Mmmm....lemony Kush"


Review by Tommy 2 Stone

I love OG Kush but I find the gassy taste to be too much for me sometimes. This cross is pure genius as it takes the best of OG and combines it with a super tasty and smooth smoke. Thanks MSNL!

(Posted on 11/08/2016)

"Very citrusy with all the OG goodness"


Review by Lori

I found this to be very similar to Sour D, almost like OG was crossed with it, but I love both of those strains and I loved this strain too. It didn't have the gassy taste of Sour D, which I like, and it kept me in giggles for hours.

(Posted on 07/08/2016)

"Very stealthy packaging "


Review by Jessie

Ordered 5 Lemon OG seeds and received 5 free seeds in the same package. Only con I've found is I don't know which five seeds are the ones I ordered... But this wont stop me from ordering again. Thanks

(Posted on 20/04/2016)
Show all reviews