×
COVID-19 Corona Virus - We are monitoring the situation as closely as possible but it is changing daily. We are currently still able to process orders and ship them as normal, however as different postal services around the world adopt different restrictions we are experiencing delays in items arriving outside the EU. Please be patient, your order will get to you.
Purple Pineberry is specifically refined to thrive outdoors and to be suitable in nearly all climate types, especially where damp can be an issue for other less hardy strains. Traditionally a clone only strain, it has been given the full MSNL treatment and is now available as high quality marijuana seeds.
Bred to reliably deliver the most intense Pine scent then crossed with an award winning blueberry to add a sweet and fruity combination, it smells great throughout its growing cycles and tastes even better however it is used.
As an Indica dominant strain it will grow in the classic "Christmas tree" shape with short internodal distance, thick stems and heavy dense buds. The Indica prevalence means that it produces a strong and deep body stone which can be an excellent stress reliever to help unwind at the end of the day. THC levels are very good regularly testing around the 19.5% mark; Purple Pineberry also has a higher level of CBD at 1.3%.
In most conditions this plant will produce deep green foliage and a purple tinge to the buds. Grown in latitudes above 45% north, where it is exposed to cooler night time temperatures it will grow true to its name, with a dazzling display of indigo and violet through the buds and shade leaves.
Mould resistant and with a good resilience to other pests, this is a great choice for beginners and more expert growers alike. She will take pretty much whatever mother nature throws at her and keep on coming, either indoors or out.
| | | |
| --- | --- | --- |
| | THC CONTENT | 19-22% |
| | FLOWERING TIME | < 8-10 WEEKS |
| | TYPE / OUTDOOR | INDOOR/OUTDOOR |
| | OUTDOOR HARVEST | Early October |
| | PLANT HEIGHT | MEDIUM 100cm-180cm |
| | YIELD | 400 - 500g/m2 |
Tasting Notes
As the name suggests Purple Pineberry has two distinctive influences on its flavour profile. The first and most noticeable is the strong Pine scent, that is rich and powerful. It has the smell of fresh resin that oozes from pine trees that carries through your grow room and the surrounding area. This intensifies into the flowering period so if growing indoors, smell management is an important consideration.
When you smoke this strain the second flavour begins to become much more apparent, wild blueberries come through the slightly acidic pine aromas to give a more balanced and sweeter taste.
The effects are strong without being overpowering. It builds steadily over time leading to a deeply relaxing body stone that calms and soothes. Slightly elevated levels of CBD mean that is can have some therapeutic value.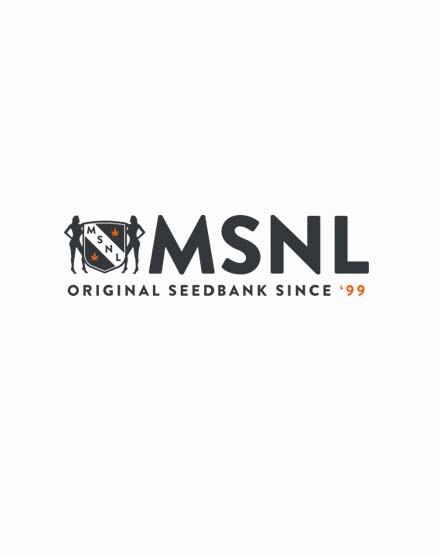 Reviews
"Leafy"


Review by Ken

Nice aromas 10 to 12 weeks

(Posted on 26/01/2020)

"MSNL 2nd to none"


Review by Jeremy

Wanted a different strain and I came upon Purple Pine Berry, I have never heard of this girl before. upon reading about her I could not pass it up. Sooooo excited to get her growing, only popped 1 and she is well on her way to a life of abundance. MSNL as always got my package to Florida in less than 2 weeks, during Christmas season, simply AMAZING!! There is not a better seed bank online. QUALITY, SELECTION, & SERVICE no one can touch MSNL!!!

(Posted on 12/01/2020)

"great outdoor strain for humid climates"


Review by chahhlie

I've grown Purple Pineberry for the past two summers in Massachusetts, USA, and I plan on growing it again next summer. I started the seedlings under fluorescents in early April, then moved them outside in mid-May. That's pretty early for this area, but the plants took it in stride.
This is an extremely vigorous strain, and extremely hungry & thirsty as well. My plants needed a LOT of nitrogen in veg. This may be due to the fact that the plants get so thirsty, and heavy watering flushes out nitrogen. Not sure. The root system of this strain is like nothing I've ever seen- you'll need a large container to avoid having the plant become root-bound. By late July, my plants had outgrown their 15 gal cloth pots and were looking unhappy. They're now (early September) in 25 gal cloth pots, but would probably be better off in even larger pots.
The plants grow big (about 6 ft unless topped or trained) and bushy, and the buds grow really long, but not dense. The branches will definitely need support, especially in last few weeks of flower. The relatively open (as in NOT very dense) structure of the buds is what makes this strain less vulnerable to bud rot than pretty much anything else I've ever grown. We get a lot of dew here in late September/ early October, and I've had no problems at all with bud rot with Purple Pineberry. Harvest time for this strain here in Massachusetts is around the 2nd week of October (roughly 8 or 9 wks). Buds purple up somewhat, but maybe they'd get more purple somewhere colder.
I let these buds cure for at least 2 months. The high is very nice- strong, but not overpowering or debilitating. I've been smoking weed for 30 yrs, but I'd be lying if I said I could detect notes of berry or anything. It just tastes like good weed. And that's enough for me.
Great choice for New England (or anywhere else where humidity's an issue) outdoor

(Posted on 05/09/2019)

" Blueberrylicious"


Review by Eric

Best blueberry flavor I have had in a long time. Let it cure for a good month. Super yummy

(Posted on 04/03/2019)

"Thick dense buds"


Review by J-

This one's a winner for outdoor growers. The rain didn't seem to bother them and found very little bud rot. I always lose some harvest to rot where I live and this variety held up much better than most. Trains well and builds up huge thick colas. And gets me high as a kite.

(Posted on 14/10/2018)

"Piney"


Review by Smokeytad

I really like the strong pine smell with a hint of fruit does awesome outdoors but just as good indoors using the SOG method!!!

(Posted on 08/09/2016)

"The best strain for outside!"


Review by Outdoor Grower

The indica in it makes for a low-growing bushy plant and the scent it gives off isn't of pure weed, also ideal for outdoor growth when neighbors and such can cause probs. The indica also makes for a nice relaxing stone!

(Posted on 11/08/2016)

"calms my nerves"


Review by Purple Pete

I go for strains that have higher CBDs usually because they calm my nerves right down. That, and the fact that I'm a Canuck drew me to this herb and it does what it's supposed to - keeps me calm. Plus it's got great flavor!

(Posted on 07/08/2016)
Show all reviews
Purple Pineberry Feminized Seeds Video
Check out this video to learn more about Purple Pineberry strain