×
COVID-19 Corona Virus - We are monitoring the situation as closely as possible but it is changing daily. We are currently still able to process orders and ship them as normal, however as different postal services around the world adopt different restrictions we are experiencing delays in items arriving outside the EU. Please be patient, your order will get to you.
A dense and stout plant with red, purple and finally blue hues, that usually cure to a lavender blue. The finished product has a very fruity aroma and taste of blueberry. It produces a notable and pleasantly euphoric high of the highest quality and is very long lasting. Medium to large calyxes. 'Blueberry' has a long shelf life.
| | | |
| --- | --- | --- |
| | THC CONTENT | 15%-18% |
| | FLOWERING TIME | 8-10 WEEKS |
| | TYPE / OUTDOOR | INDOOR/OUTDOOR |
| | OUTDOOR HARVEST | LATE SEPTEMBER |
| | PLANT HEIGHT | MEDIUM 100cm-180cm |
| | YIELD | 400-500g/m2 |
Tasting Notes
The Blueberry strain is a classic in every way. The delightful aroma of wild blueberries is apparent from early stages of flowering and continues to build through harvest time to reach its pinnacle, if you have the patience to cure this strain for 2-3 months or more. Staying true to its Indica dominance, the stone is all in the body. A pleasing couch lock combined with a relaxing headstone makes this a great strain for long lazy days.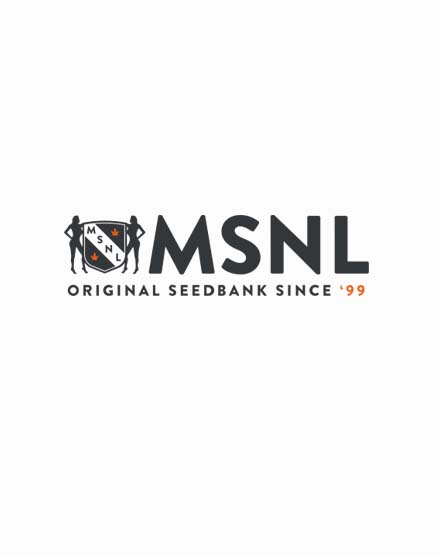 Reviews
"Put it in the crock pot with some coconut oil"


Review by Bunny Peterson

I was originally going to give this strain 3 stars, because it was kind of a difficult grow. Three out of my five plants hermied and actually produced seeds. I still can't figure out why.

That said, though, I am very impressed with the quality of the buds. Very dense and sticky. I have also started making edibles and pain relief balm out of the leaves and bud trim, and it is VERY potent. I actually prefer that to smoking this strain.

(Posted on 31/05/2020)

"Big Fruity Buds"


Review by Rob

Fast delivery and fresh seed, even from the other side of the world, seed from Msnl never fails to impress. I found Blueberry an easy grow, I agree they tolerate the cold well, and when water flushed at the end, they smell and look a treat. Easy on the nutrient, the buds swell daily and smell like a stoners mixed fruit salad. Impressive.

(Posted on 17/08/2019)

"Great tasting, happy high reliable plant."


Review by Rob

Bushy, tasty and an easy grow, these plants smell fantastic. The taste is fruity sweet, and the stone can help slow pain and be very relaxing. A very traditional Indica, perfect for indoors, or smaller outdoor grows.

(Posted on 16/08/2019)

"Fantastic "


Review by Adam

Has a great taste

(Posted on 05/08/2019)

"freebie is also awesome"


Review by supertrooper

i grown BLUEBERRY freebies from MSNL, given by my friend ...very easy to grow..and very tasty smoke tho.

(Posted on 16/08/2017)

"Ordered 10 seeds Blueberry"


Review by Kreol

Order received in 18 days delivered to Australia Melbourne.
Packaging was very discreet and seeds were labelled in each bags (also ordered 10 White widow max seeds and received 5 free mix regular seeds.
Cant wait to start growing those babies.
Very happy customer for my first order and looking forward to order more seeds with you.
Best regards
Kreol

(Posted on 17/07/2017)

"Go cold with this one!"


Review by Shamar

I live in a colder climate and was tickeld to see these girls actually turn purple towards teh end of flowering. Awesome, and easy to impress.

(Posted on 05/05/2017)

"Excelent"


Review by Charles

Got these free with order, grows well and easily trained. Taste is phenomenal, and high is more like a sativa, so you can stay in your happy place whatever your doing.

(Posted on 18/03/2017)

"Real nice"


Review by Neil

Great strain very euphoric, and relaxing but still uplifting, after a few hours it can deffinetly lend itself to a good night's sleep. Great for evenings when you have time to relax. Great flavor and smell. Pretty much all around a great strain

(Posted on 04/03/2017)

"Tastes just like you'd expect"


Review by Dylan

Tastes just like blueberry and if you cure it right, kinda has a blue hue too. Really nice, but a pretty strong smoke that you might not expect from the name.

(Posted on 20/02/2017)

"yup, blueberry taste"


Review by KD

I was surprised to learn that this was indica dominant because I laughed my butt off on it total blueberry taste though pretty cool

(Posted on 19/09/2016)

"Great stress reliever"


Review by Smokeytad

One of my faves very dense buds and a truly awesome smoke! Love the blueberry strain and I have crossed this with OG and lemme tell ya I was a happy man!!!

(Posted on 31/08/2016)

"One burn is all you need"


Review by Tony

Don't need much with this strain. Just one burn and you'll be relaxed and stress-free for hours but it will still let you get up and go if you need to.

(Posted on 25/07/2016)

"These were 5 of the "Freebies" "


Review by Dean

All 5 popped very fast 1st one popped in a peat pot in just about 30 hours, amazing!!!! Will update the progress as it moves along.

(Posted on 10/11/2015)

"Impressive"


Review by Chris

Amazing results, love this strain.

(Posted on 26/04/2015)
Show all reviews