The best glasswork in MSNLS opinion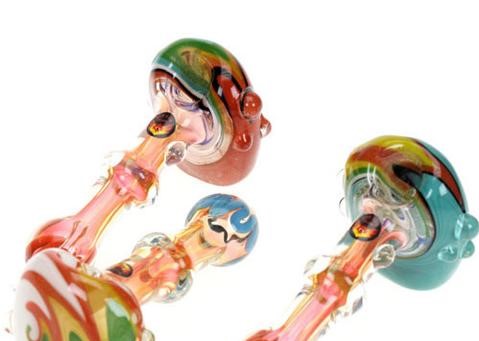 We know that weed is about doing you good rather than looking good, but let's be honest, it's nice to use a beautiful glass pipe or bong for your marijuana.  The right glasswork and cannabis accessories can really add an extra dimension to your enjoyment of your cannabis.  Here are our 10 favourites.
---
1. Quartz Glass Cigarette Bats
We appreciate this may be a surprise choice for an article on beautiful pipes and bongs, but they are glasswork and many people may discover that one-hitter bats have a useful place on their list of cannabis accessories.  The trick to making them beautiful is to invest in a stylish cigarette case, so you can draw one out elegantly and light up with style, just like people did in old films.  Think Humphrey Bogart and Lauren Bacall, but for the 21st century.
---
2. Grav Labs Glass Blunt
Pocket-friendly in every sense, glas blunts from Grav Labs are bright, bold and yet chic.  The black grips and colourful sides stand out clearly against the clear glass bodies and bowls.  Pulling one of these pipes out of your pocket will brighten your day even before you've taken your first puff of marijuana.  They also offer excellent all-round performance.
---
3. Red Eye Glass Single Hitter Glass Bowl Pipe
There are a lot of candidates out there for the title of most beautiful and colourful pipe or bong, but there are a couple of reasons why this one makes our list.  First of all, it's a single hitter and a lot of the other colourful glasswork out there is on a larger scale, which is understandable given that bigger pipes and bongs have more space for decoration, but is a bit unfortunate if you want cannabis accessories which are both colourful and portable.  Secondly, we think this piece of glasswork really does deserve the title of pocket gem.  It hits the perfect sweet spot between sophistication and fun, plus it has that all-important usability.
---
4. Mathematix Glass Studios Colour Changing Glass Spoon Pipe
This little beauty is just gorgeous.  These pipes are handmade in the U.S.A. using the "inside out" technique, which is based on taking coloured rods and covering them with clear glass and then finishing the pipe by fuming it with real gold.  The pieces look amazing from the moment they are ready, but it gets better, over time, the gold reacts with the smoke from your weed and starts to change the colours in the pipe.  If you want to change them back, just give it a clean.  As well as looking great, this pipe is easy to fit in a pocket and is a joy to use.
---
5. Inferno Martian Blunt Bubbler
There's just something about this piece which makes us smile.  We've seen plenty of takes on the alien theme before, some funny and some more edgy, but this one manages to blend timeless style with humour and practicality.  Some jokes can wear thin after only a short time, but this is one quirky and beautiful piece of glassware we could see ourselves loving year in and year out.
---
6. Mathematix Glass Studios Lightbulb Spoon Pipe
If you're smoking a quality Sativa in the hope of having a lightbulb moment, then what better choice than these fun and functional lightbulb spoon pipes from Mathematix Glass Studios?  The lightbulb has been around for decades, mostly in much the same shape and its simple curves are still as appealing to the eye as they have always been
---
7. Red Eye Glass Tara's Hardcore Spike Pipe
The horns on this piece were actually put in place for an entirely practical reason, they help to ensure that the pipe remains stable regardless of where it is placed. A bonus side effect of this, however, is that they give this beautiful, colourful pipe, a real edginess.
---
8. Mathematix Glass Studios Full Dichro Grenade Hand Pipe

We can think of plenty of glassware with a scary element to it, but, as with the humorous pieces, if you're going to invest good money in cannabis accessories then you want them to be pieces you can use over the long term, which means that simple is usually better and quality is important.  Mathematix Glass Studios has turned this idea into a fine art form, literally, as these "grenade" pipes clearly demonstrate.
---
9. Red Eye Glass Hammer Head Pipe
Now this is a pipe with personality!  The distinguishing feature of this pipe is the seriously massive chamber, which is set around the bowl and which makes this piece of glassware look like a judge's gavel, hence the name.  Of course, it also makes the pipe look like it is wearing a hat, hence the "mushroom (wo)man" design, which is fun as well as very practical.
---
10. G-Spot Alien Glass Pipe
While our other alien design was clearly a pipe with a fun, alien element to it, this pipe has been crafted for realism in the sense that it resembles aliens from many classic films such as Close Encounters of the Third Kind.  Our previous suggestion was definitely more practical, but this is also a high-quality offering and if you're looking for a piece of glassware with real character, this could be a great choice for you.