People have been using smartphones for over a decade. At first they were used primarily for communication purposes when talking on the phone, then texting became hugely popular and now we live in a world that has our entire life on a phone, mainly through apps that are provided for different uses. But until recently, weed apps have largely been left out of the mix. With marijuana not being in the mainstream until the past few years, there simply wasn't a huge marketplace for them.
But today, marijuana has definitely made its way to the forefront and weed apps are becoming more popular. So which apps are the best weed apps? Find the top ten below to learn more about them.
---
Leafly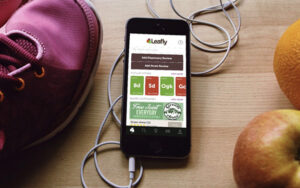 Leafly has been one of the best marijuana sites for years and now, they have an app so people can get their weed info on the go. Leafly provides the latest news in the weed world, along with detailed reviews on a huge amount of cannabis strains, both popular and those that are lesser-known. And it won't just tell you what strain to use depending on your individual needs or symptoms, it will also provide you with information on the closest dispensaries to you, and the price of the strain you're researching. One of the most known and best weed apps out there.
---
HighThere!
HighThere is a social app, but is designed with cannabis users in mind. Tell this weed app what mood you're in, how you like to consume your marijuana, what your energy level is and what you'd like it to be, and it will match you with like-minded people. Like Tinder, you can swipe right to give other users a 'High there!' or swipe left to give them a 'By there!' Once you find your matches you can talk to them or even meet to maybe take part in a sesh together.
---
Weed Scale 4.20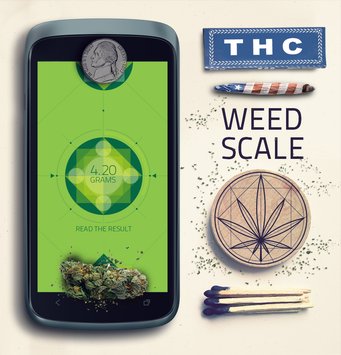 Have you ever gotten a bag of weed and thought it felt a little light? You can't ask the guy that sold it to you, as you might be cutting off your supply, but you don't want to get cheated either. Enter Weed Scale 4.20, the weed app that will let you weigh your buds. It only works for one to five grams of marijuana at a time but if you want to weigh a bigger bag, just break it up into batches and add up what they weigh. Unfortunately, Apple users are left out of this one as it's currently only available for Android.
---
Weedmaps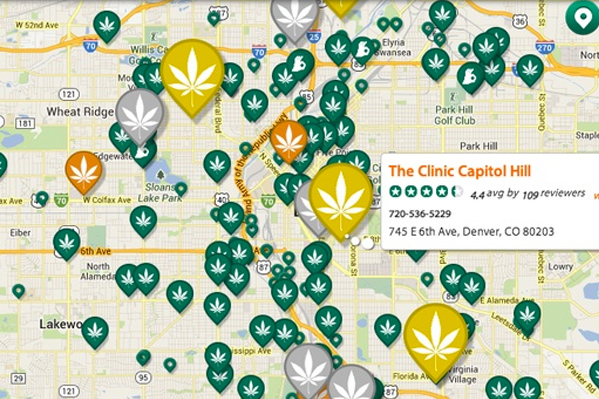 Like Leafly, Weedmaps will show you where the closest dispensaries are to you. But while it may not provide a lot of information on individual strains or match it to your moods the way Leafly will, the dispensary information it provides is a lot. Dispensary hours, photos, prices, strains available, as well as the edibles they sell are all available in this app; as well as limited coupons so smokers can get their weed at a discount. One of the best weed apps to find local dispensaries.
---
MassRoots
Love Instagram but don't want to wade through all the pointless memes and family pics that are often posted on there just to get to your friends smoking pictures? Welcome to MassRoots! This weed app is full of pictures of beautiful buds, smoking paraphernalia, and even the best tricks to do while smoking. Just keep scrolling and you won't have to worry about seeing things that you don't have any interest in but will get your fill of marijuana content. And just like Instagram, it's free.
---
Ultimate Weed Trivia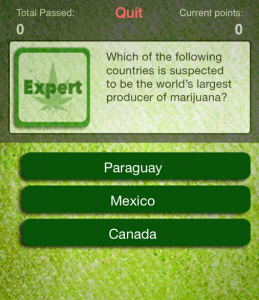 With Ultimate Weed Trivia, you get a weed app that's both a game and an educational app for marijuana lovers. This app will ask you trivia about all things weed-related: pop culture references, the science behind it all, movies, and the best holiday all users look forward to, 4/20. Beginners can choose the easy level and then work their way up to hard and once there, you can challenge your friends and try to beat their highest score.
---
GrowBuddy
Growing experts agree. For those that are looking to grow their own marijuana, this is the best growing app out there. Through this weed app growers can enter data on their own crops, or even a single plant, and get advice on how to improve the plants. To really get the most out of it, growers are advised to first download the software for desktops or tablets and then use the app in conjunction with it. And it's available free for both Apple and Android phones.
---
Duby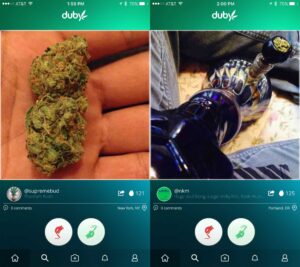 Like HighThere! this weed app is for smokers that want to get together or just share their marijuana experiences. Download the app and you can upload photos or videos and even talk to other users through private messages. And if you want to get to know someone a little better, you can even swipe right or left just like HighThere! and Tinder to learn more about them and see what they've been posting.
---
My Canary
For those that like to toke on the go, there is no better weed app than My Canary. This app works like a breathalyzer, but for marijuana instead of alcohol. Through a series of tests iPhone users can test their own abilities including balance, memory, and time perception to see if they are okay to get behind the wheel of a car. With NORML, the team behind the creation of this weed app, being one of the leading advocates of marijuana legalization, it makes sense that they're also trying to keep people safe while making headway.
---
Ganja Farmer
So sometimes you're settled in for the night and don't really care about your abilities. And you also may not want to interact with a bunch of people or look at their photos. You just want to enjoy your couch lock and play a game for a little while. When that's the case, Ganja Farmer is the best weed app to provide you with hours of zone-out time. With Ganja Farmer you get to see how you'd do in the marijuana biz while you grow crops of different strains along with mushrooms, and even try a hand at making moonshine vodka. All the while, you can listen to the reggae soundtrack that any stoner will instantly vibe with.
With marijuana becoming more and more accepted around the globe, developers are getting with the trend and starting to create more and more weed apps for people to try. There are a lot out there right now though so when you want to try your hand at the best of them, start with one of these and you take your next sesh to the next level.