Once someone has become a master grower, they can then work towards being a master breeder. While growers are simply taking seeds and growing them into beautiful plants, they are growing something that nature, or someone else, has actually created. However, when one becomes a breeder, they get to truly play god by breeding different strains together, making seeds, and even making their very own strain. In order to do so, one has to first have a good grasp on things science, genetics, and how cannabis plants work to make seeds, to make bud, and how different plants work together.
What are F1 and F2 cannabis seeds?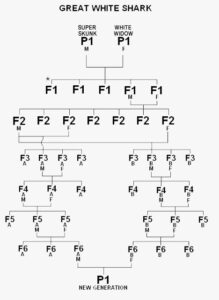 The terms "F1" "F2" and "S1" are some of the first that beginner breeders will come across. They refer to outbreeding, or producing hybrid seeds, which is the practice of cross-breeding two plants that originally have completely different genetics. In order to do so, two stable parents must be chosen so the pollen from the male can be used to fertilize the female.
This will result in the hybrid seeds the breeders are after, and they're known as "F1" seeds, or first generation seeds. F1 seeds will be the most stable of any seeds that follow it in future generations, and those generations will be known as "F2" seeds, "F3" seeds, and so forth as more seeds are made. However, F1 seeds are the most sought after by breeders because they grow about 25 percent faster, and they grow larger and with more vigor that subsequent generations.
What are S1 seeds?
In addition to F1 and F2 seeds, there are also S1 seeds. The "S" in this case refers to "self" or "selfed", meaning that these seeds will be selfed-generation. They do not need a male plant for pollen but rather, the female plant is reversed so that pollen can be collected. The pollen will then be used to pollinate the mother plant or a clone of the mother to get S1 seeds. Males can be selfed as well, but in both cases it's a complex process that requires great focus from even the most experienced breeders.
Breeding can be even more exciting than growing because it's a chance to really make your own strain and create something that will highlight your preferences. Breeding can be a complicated matter, however. Start by understanding some of the basic terminology, and what's needed to create a stable strain, and you'll be well on your way to your own.