Stoner movies may never win an Academy Award but for potheads, there's no better way to spend an evening. There are really just two requirements for our top ten list: they need to be funny and there needs to be a lot of pot-smoking. These top movies have both.
Reefer Madness
This movie, made in the 1930s, was originally meant to be for parents of teen-agers, warning them of the dangers of smoking marijuana. It involved high school students that take drugs from a "pusher" and then run into all kinds of disasters, from hit and run accidents, to manslaughter, suicide, attempted rape, and even hallucinations. We bet that director Louis J. Gasnier never would have guessed before releasing it that instead of being taken as a serious warning, potheads instead found it hilarious, quickly placing it in the satire category rather than the tale of caution it was intended to be.
Dude, Where's My Car?
Ashton Kutcher and Seann William Scott play two stoners that run into a situation most everyone can relate to: after a hard night of partying, they wake up unable to remember anything that happened the night before. Jesse (played by Kutcher) has lost his car and he and his buddy Chester (Scott) are on a search to find it. The two stoners embark on an adventure to find Jesse's car and run into hilarity along the way. From aliens that tell them the universe will be destroyed, to the transsexual stripper with a suitcase full of money, it's one laugh after another. But the funniest part of the movie has got to be when they meet the dog that smokes a huge blunt before revealing some of his own wisdom.
Half Baked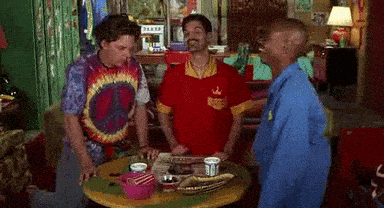 Dave Chappelle plays the lead stoner in this movie, Thurgood Jenkins, when he and some of his pothead friends need to sell weed for their friend, Kenny's, bail money. Kenny was arrested for feeding a diabetic horse junk food, ending in the untimely death of the horse, and his bail totals $100,000. It's all fun and games until a local drug lord, Samson Simpson (played by Clarence Williams III) finds out about the competition and sets out to squash it. If you need even more than the comedy and abundance of weed in this movie, it might help to know that Snoop Dogg makes an appearance as Scavenger Smoker.
The Big Lebowski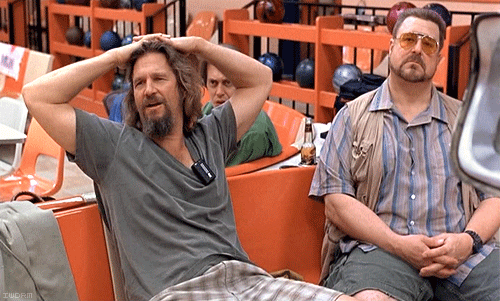 In this film, Jeff Bridges plays Jeff Lebowski, otherwise known as "The Dude." His life pretty much consists of wearing his bathrobe, laying on his couch, and smoking as much weed as he possibly can – with a bit of bowling thrown in now and then. Life is pretty lax until someone mistakes him for another Jeff Lebowski, the millionaire known as "The Big Lebowski." Once that happens, he's kidnapped, one of his bowling buddies is killed, and his life is shaken up in a major way. Not to fear though, at the end of the movie the confusion is cleared up and The Dude is back on his couch where he belongs.
Friday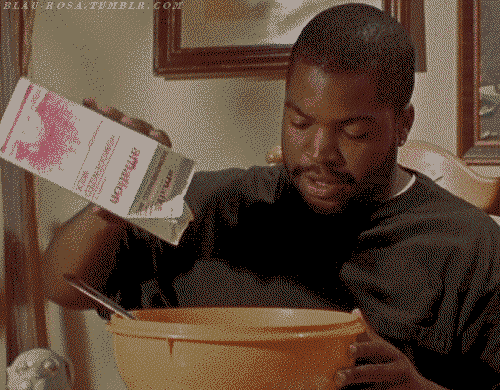 On a Friday night two homies, Craig Jones (played by Ice Cube) and Smokey (played by Chris Tucker) are supposed to sell weed for the drug dealer Big Worm. Instead, they end up smoking it all themselves and need to come up with the $200 by 10:00 that night. The movie has tons of great comedy, an iconic hip hop artist, and a boomin soundtrack, making this undoubtedly one of the best stoner movies of all time.
How High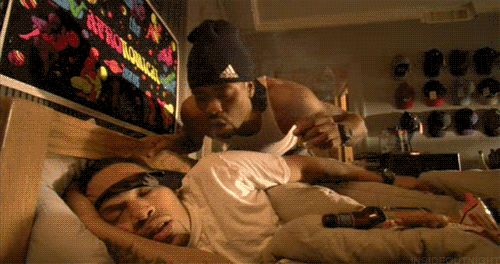 Imagine if smoking a bunch of weed could make you a genius. That's the premise of this movie, in which Silas (played by Redman) and Jamal (played by Method Man) smoke marijuana that they grew on their own, and that used their dead friend, Ivory's, ashes as fertilizer. The weed not only turns their stoner minds into brilliant ones, allowing them to enroll in Harvard, it also brings on the ghost of their friend. Now that's a trip one would never forget!
Dazed and Confused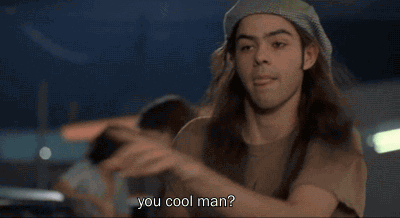 Mary Jane might not be the focus of this movie that centers on a group of 70s high school kids on their last day of high school, but it's certainly present all the same. Joints are passed around in abundance, and drug usage is constantly talked about by both parents, students getting hazed, and students just looking for a good time. Need to find more greatness in this movie? It gives us a look at a younger Matt McConaughey, who is much older than everyone else, but hangs out to continue hitting on young high school girls.
Pineapple Express
In this movie Seth Rogen plays a guy named Dale, who leads a pretty boring administrative life and likes to smoke a lotof weed. After visiting his dealer, Saul, who's played by James Franco, he's treated to some of the rarest weed ever – Pineapple Express. After witnessing a murder, Dale throws a joint out his car window, but when the killers find out it's a roach of this rare strain, they know who to start tracking. Dale and Saul run into tons of adventures as they run for their lives, and end up forming something more than just a dealer/customer relationship. This is also the movie that brought us the famous three-ended cross joint.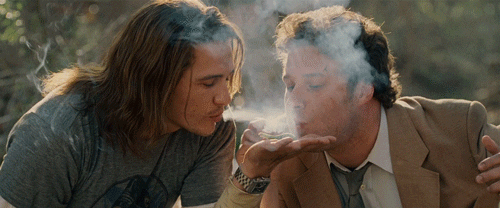 Harold and Kumar Go to White Castle
When Harold (played by John Cho) and Kumar (played by Kal Penn) get completely stoned after a hard day of work and interviews, they get a severe case of the munchies. After seeing a White Castle commercial, they know that nothing else will fill their craving and vow to not eat a thing until they have White Castle burgers. After finding out that the White Castle that was once nearby is no longer, they embark on an adventure that includes riding a cheetah, running into crazy racoons, and even a chance meeting with Neil Patrick Harris, who later steals their car. In the end, they get their burgers and the audience gets a belly full of laughs. This movie was the first in a trilogy that also included "Harold and Kumar Escape from Guantanamo Bay" and "A Very Harold and Kumar 3D Christmas." All are good, but the first one is the best.
Cheech and Chong: Up In Smoke
This was the first feature-length film for Cheech Marin and Tommy Chong in 1978, and it's become a popculture phenomenon that audiences of today can still enjoy. In the movie the duo drive a van made of pot from Mexico back to the United States and perhaps because they're already too stoned, don't even realize it. The pot one-liners come one after the other, and each sets the bar a little higher. This was the movie that made way for more great movies from the pair, but it might be because it's the first in line that it still holds the popularity it did almost 40 years ago.