If there's any holiday that could be known as the chocolate holiday, it's Easter. It's a time to celebrate as kids run around looking for chocolate eggs and maybe a gift hidden somewhere. But while adults may not join in the egg hunt, there are ways for them to have a little fun of their own.
Whipping up some quick cannabis treats, whether they're dripping with chocolate or just subtly sweet, is a great way to celebrate this Easter holiday. It's really easy to do, too. Just follow one of the delectable recipes below and get ready for a spiced up holiday!
With just about any cannabis baked good, you'll first have to make cannabutter. This is because you can't just eat marijuana and expect it to get you high.
Cannabis Infused Peanut Butter Chocolate Eggs
Let's be honest - there's nothing that elevates the classic peanut butter and chocolate combination, like a holiday themed egg shape. Enhance your favorite candy combo even more, with this cannabis infused recipe that'll have every-bunny hopping!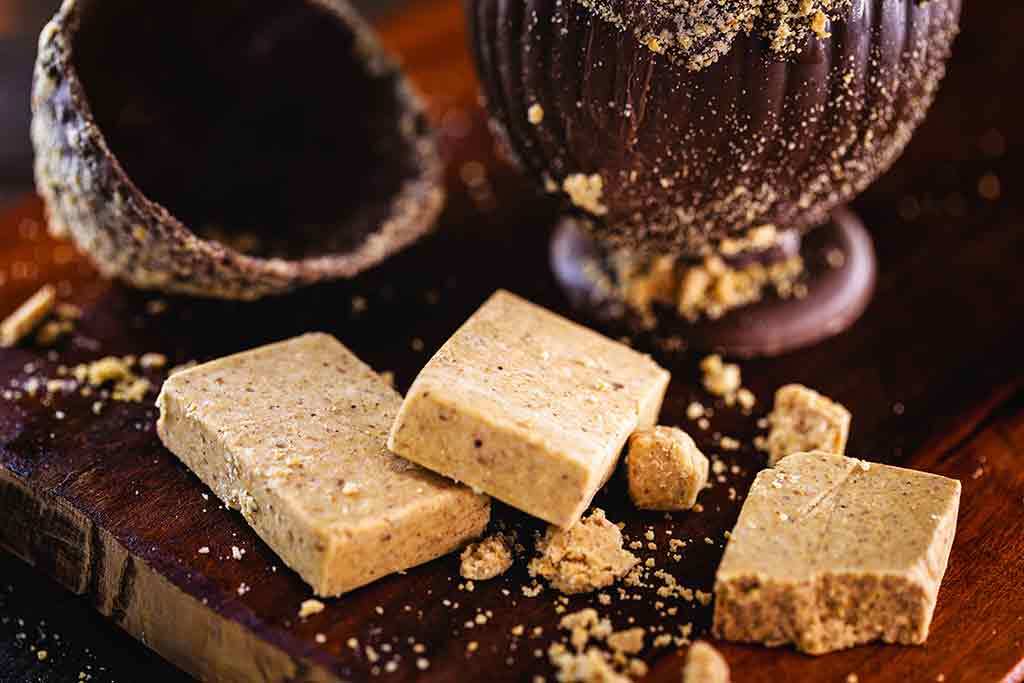 What You'll Need
3 cups chocolate chips
1 ½ cups crunchy or smooth peanut butter
¼ cup melted cannabis-infused butter
3 cups icing sugar
2 tablespoons water
1 tablespoon shortening
Recipe:
Combine your icing sugar, cannabutter, peanut butter and water and beat on high with an electric mixer, until smooth.
Add a bit of water to the mixture, if the dough becomes crumbly.
Line a 9" baking dish with aluminum foil, and spray with non-stick cookie spray.
Press the dough into the dish, and flatten with a spatula.
Set the dish in the refrigerator and let it cool for 30 minutes.
Remove the dish from the refrigerator and gently lift the foil to remove the peanut-butter dough/candy.
Lay the foil on a clean flat surface and line a cookie sheet with parchment paper to place the egg shapes onto.
With a knife or cookie cutter begin making egg shapes out of the peanut butter doug.
For ideal dosing, the recipe recommends cutting at least 12.
Place the cookie sheet into the freezer for at least 30 minutes to harden.
Just prior to removing the eggs from the freezer, prepare your chocolate coating.
In a microwavable dish, add your chocolate chips and shortening.
Heat the chocolate and shortening in the microwave at 30-second intervals, and stir until fully melted and smooth.
Remove the peanut butter eggs from the freezer and dip into the melted chocolate completely.
Place the chocolate covered eggs back onto the parchment paper to set.
Use any extra chocolate to drizzle over the top of the finished eggs.
Allow the chocolate to completely harden, before transferring to an airtight container to store.
Cannabis Cookies
There is nothing more warm and comforting than a chocolate chip cookie straight out of the oven. And when they're infused with a bit of cannabis, all the better.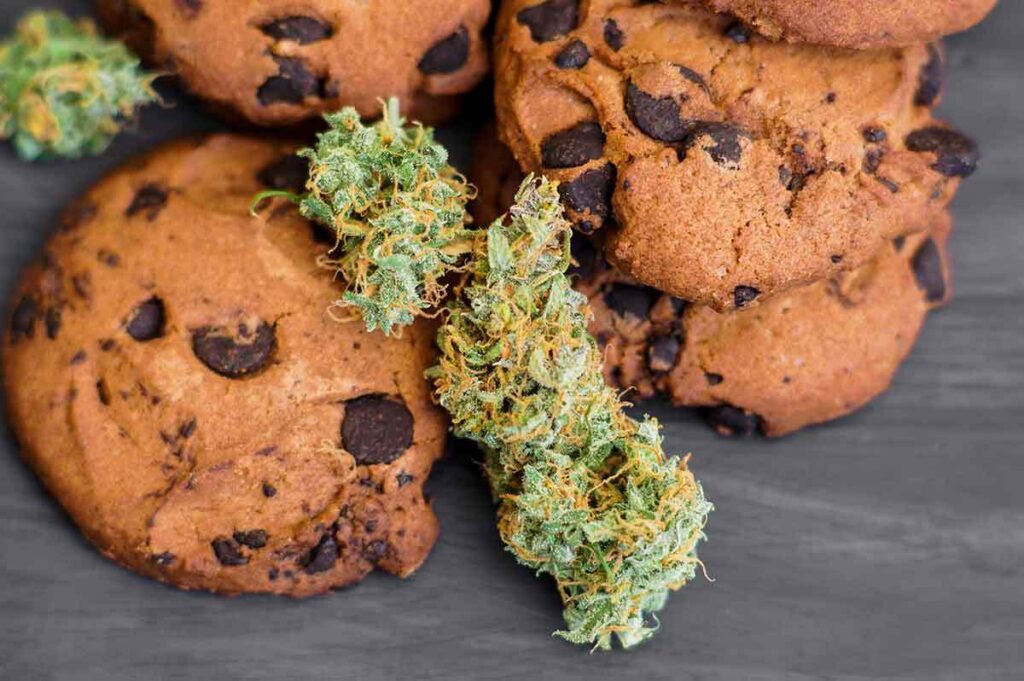 What You'll Need:
3/4 cup cannabutter
2 large eggs
1 cup brown sugar, tightly packed
1/2 cup white sugar
1 tablespoon vanilla extract
2 1/4 cups all-purpose flour
3/4 teaspoons baking soda
1/2 teaspoon salt
12 ounces (1 bag) milk chocolate chips
2 baking sheets
Parchment paper
Small saucepan
Recipe:
Preheat the oven to 375 degrees Fahrenheit.
Line two baking sheets with parchment paper.
In a small saucepan, melt the cannbutter and allow it to cool slightly.
Place the eggs, sugars, and vanilla in a large bowl. Add the melted cannabutter and whisk until the contents are smooth.
In a separate bowl whisk the flour, baking soda, and salt. Whisk ingredients together.
Slowly stir the wet ingredients into the dry ingredients. Do not over-mix.
Fold in the chocolate chips.
Using a 1/4-cup measuring cup, drop the dough onto the parchment paper, leaving about two inches of space between cookies.
Place in the preheated oven and bake for 12 to 16 minutes. Cookies are done when the bottoms are golden brown but the tops are still light in color.
Remove from oven and allow to cool slightly before transferring to a wire rack to cool completely.
Cannabis Chocolate Cake
So you know that sometimes, you have to go all out. That means making a moist, delicious chocolate cake that will leave you, and everyone else, wanting more. Add in a dose of cannabis, and it becomes that much better.
What You'll Need:
3 9" round cake pans
2 cups boiling water
1 cup unscented cocoa powder
2 3/4 cups all-purpose flour
2 teaspoons baking soda
1/2 teaspoon baking powder
1/2 teaspoon salt
1 cup cannabutter, room temperature
2 1/4 cups white sugar
4 eggs
1 1/2 teaspoons vanilla extract
Recipe:
Preheat oven to 350 degrees and grease the cake pans.
In a medium bowl, pour boiling water over the cocoa powder and whisk until smooth. Set aside to allow to cool.
In a separate medium-sized bowl, whisk together the flour, baking soda, baking powder, and salt. Set aside.
In the bowl of a large stand mixer, cream the cannabutter on medium speed until light and fluffy.
Beat in eggs one at a time, and stir in vanilla.
Add the flour mixture and the cocoa mixture, alternating the additions.
Mix well and spread batter evenly between the three pans.
Place all three pans in the preheated oven and bake for 25 to 30 minutes, or until a toothpick inserted in the center of each pan comes out clean.
Allow to cool completely before removing from the cake pans.
Once cooled, cakes can be iced to make them even more delicious.
Cannabis Chocolate
Easter is all about the chocolate, and there's no reason for the adults to feel left out. These are cute pieces of chocolate that can be shaped into whatever you want - just pic out your moulds and get started.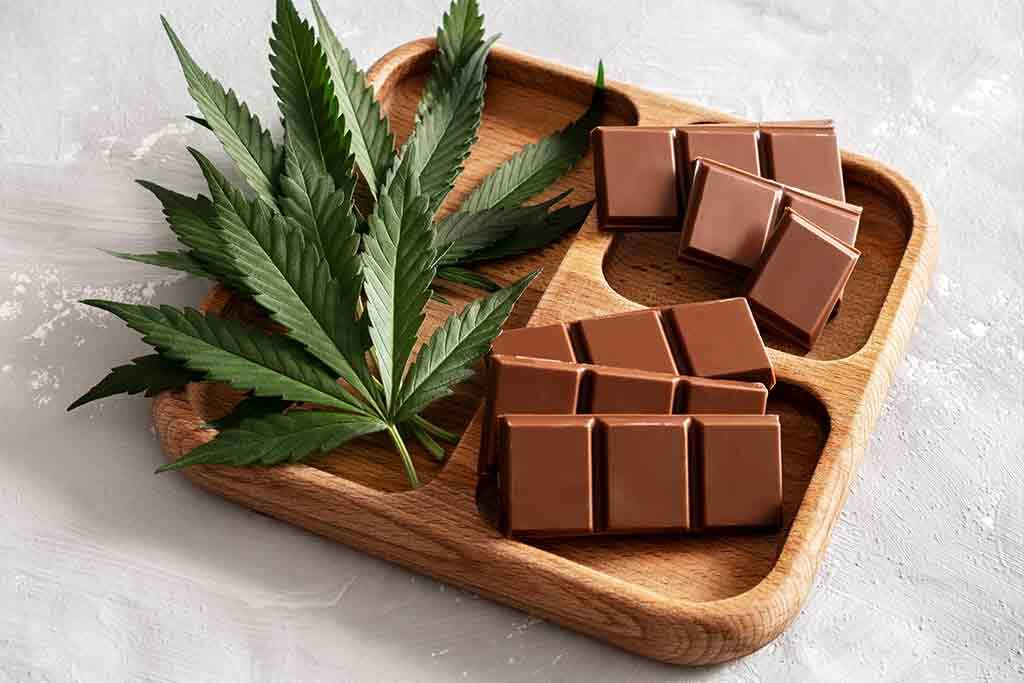 What You'll Need:
Chocolate moulds
5 grams of cannabis, finely ground
100 grams of your favorite chocolate or chocolate chips
Glass bowl
Saucepan
Recipe:
Decarb your weed by following the first three steps of making cannabutter.
Fill a saucepan with about two inches of water and set on the stove. Place the glass bowl on top.
Bring the water in the saucepan to a simmer and then turn heat down to low. You don't want the water touching the bowl, just the steam from it.
Place chocolate into the bowl and allow to melt. Stir regularly with a rubber spatula.
When your weed is decarbed, add it to the chocolate, making sure it's as finely ground as you can get it.
Mix the cannabis and the chocolate together and pour into chocolate moulds. If you don't have moulds, you can use ice cube trays.
Gently lift the mould off the counter and lightly drop it again. This will remove any air bubbles.
Place in the fridge to fully harden.
Cannabis Rice Crispy Cake
Remember those Rice crispy squares you used to have as a kid? Now they can be part of your Easter celebrations. And we guarantee they'll take you right back to childhood.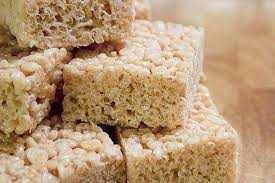 What You'll Need:
1/4 cup cannabutter
4 cups mini marshmallows
5 cups of Rice Krispy cereal or other puffed rice cereal
Large saucepan
Wax paper
13 x 9" baking dish
Recipe:
In a large saucepan melt the cannabutter over low heat.
Slowly add the marshmallows to the butter and stir until the two are well-blended and the marshmallows have started to melt.
Remove mixture from heat and slowly add the cereal.
Stir until everything is evenly blended.
Line the baking dish with the parchment paper.
Using a rubber spatula, pour the cereal mixture into the baking dish. Spread out evenly.
Set aside and allow to cool completely before cutting into squares or other shapes.
Cannabis Cream Filled Easter Egg
Easter eggs are a sweet staple of Easter celebrations. But when they are filled with cannabis infused cream they are taken to a whole new level of indulgence.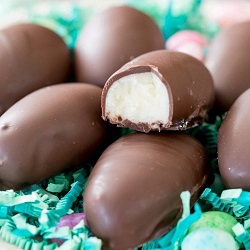 What You'll Need:
1

Stick

Unsalted Butter (softened)

1/2

Cup

Sweet Condensed Milk

1

Tbsp

vanilla extract

1

Pinch

salt

4-5

Cups

powdered sugar

7

Oz

Milk or Dark Chocolate

( Or w

hichever type of chocolate you prefer)

1/2

Cup

cannabutter
Recipe:
Combine your softened unsalted butter, vanilla extract, sweetened condensed milk and salt in a bowl and use mix until its a creamy consistency. You can also do this by hand but for quicker results use an electric mixer. Now mix in the sugar one cup at a time until the mixture has a thicker, doughier consistency .
Grab a teaspoon of your cooled cannabutter and roll it in to a ball. Then grab a good full table spoon of the white dough and roll it in to a large ball. Flatten the white dough slightly and make an indent in its center big enough to place the ball of cannabutter in it. Wrap the white dough around the cannabutter ball covering it all. Then roll it until you can get it into the shape of an egg. Continue this process until you have used up all the white dough and cannabutter. This should make around 24 creme filled Easter eggs.
Place the eggs on a baking sheet lined with parchment paper and put them in the freezer for about 30 minutes. You want to make sure that the eggs are firm before going to the next step.
While the egg dough is in the freezer melt your chocolate in the microwave or a double boiler.
Remove the chilled egg centers from the freezer and dip them in to the melted chocolate one egg at a time until the egg are completely coated in chocolate. Place the dipped eggs on a wire rack with some parchment underneath to catch the excess chocolate drip off. Let the chocolate set and your ready to eat your own cannabis creme eggs.
Cannabis Fudge with Chocolate Eggs
Gooey fudge is something anyone with a sweet tooth would love at Easter. But when you add mini chocolate eggs and infuse it with cannabis you have the ultimate treat.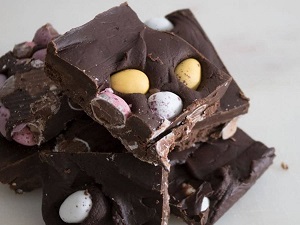 What You'll Need:
1 ½

lbs

icing sugar, sifted

¾

cup

cocoa powder, sifted

½

cup

unsalted

butter

¼

cup

cannabutter

100

ml

half & half cream

1

tbsp

vanilla extract

½

tsp

sea salt

1

cup

chocolate eggs, chopped
Recipe:
Firstly line a 9"x13" pan with parchment paper. Then melt the unsalted butter & cannabutter together in a saucepan with the cream, vanilla & salt.
In a large bowl, sift the icing sugar & cocoa powder together, then add to the butter mixture, place on low heat & whisk until smooth.
Stir in the chopped chocolate eggs and mix together.
Pour your fudge mixture in to the parchment lined pan and garnish with some whole chocolate eggs.
Place the pan in to the fridge and allow to cool for a couple of hours.
Once cooled remove the fudge from the pan, cut into desired sizes and enjoy. This fudge is best store in a container in the fridge.
Conclusion
With so many options, these recipes are a great way to get your Easter holiday started. They'll also get you brainstorming the many different ways you can use cannabis in your holiday baking. So, let your imagination take off and get out your best baking ingredients!