You can't talk about Halloween and not mention the sweets that come along with the holiday. For cannabis enthusiasts, there's an even better way to enjoy them! There is no shortage of recipes for cannabis-infused edibles that are sure to make this holiday even better for you. So, whether you're handing out regular candy to the little ones, or you're throwing a Halloween bash for your other weed-loving friends, you'll love all of the recipes listed below.
Originally posted on 17th October 2019, Updated on 21st October 2021
Cannbis-infused Finger Cookies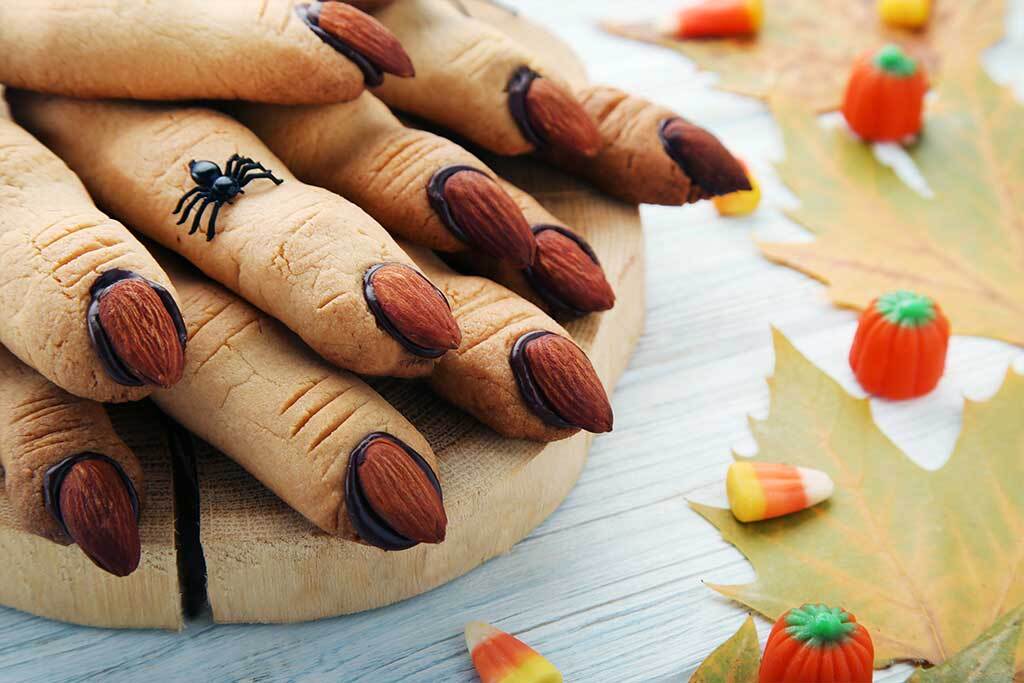 Want to add a spooky treat to your Halloween spread that'll get your guests stoned with sweetness? Try these creepy cannabis-infused cookies!
Ingredients
1 teaspoon red food coloring
30 whole almonds (blanched) or almond slices
2 eggs (large)
1 teaspoon almond extract
1/2 cup cannabis-infused butter
1/2 cup powdered sugar
1/3 cup granulated sugar
1/8 teaspoon salt
1 3/4 cup all-purpose flour
1-2 tablespoons Nutella
Method
Preheat your oven to 350℉ and prepare 2 baking sheets with non-stick spray or lined with parchment paper.
Add food coloring to a small bowl. With a paintbrush, color one side of each almond and set to the side to dry.
Grab your two eggs, and separate the white from the yolk from 1. Whisk together the egg yolk with the other egg, and your almond extract. Set your egg mixture to the side.
With a mixer, beat your cannabis-infused butter (room temperature), powdered and granulated sugars until fluffy and completely combined.
Add in egg mixture until fully combined.
Beat in salt, and flour until fully combined. Divide your dough into two even pieces and place individually on plastic wrap. After flattening into a disc, wrap completely and chill in the refrigerator for at least 20-30 minutes.
Once the dough is chilled, divide into approximately 15 pieces and begin rolling your finger shapes. Be sure to make the fingers thinner than expected, as the dough does expand when baking.
Pinch the dough near the top of the finger, and in the middle of the finger to form what looks like knuckles. Then score these areas lightly with a knife for the knuckle texture.
Place your finger cookie dough pieces on the baking sheets.
With another brush, paint each finger with the remaining egg white. Place a food-colored almond at the tip to serve as the 'fingernail'.
Bake for 12 minutes or until golden brown.
If your almond is having a hard time sticking to the cookie finger, add a dab of Nutella or chocolate hazelnut spread.
Cannabis-Infused Pumpkin Spice Latte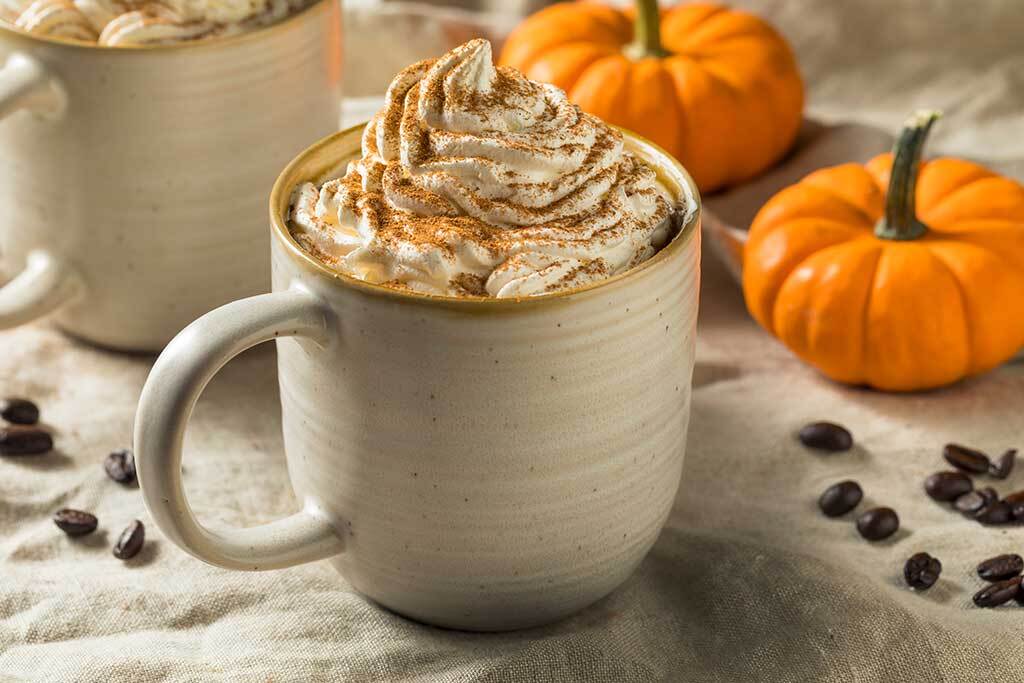 Warm up and relax with the flavors of fall, and soothing cannabis effects. This cannabis-infused pumpkin spice latte is perfect for any fall brunch, or for an evening of trick or treating too!
Ingredients
2 tablespoons canned pumpkin
1/2 teaspoon pumpkin pie spice (plus extra for garnishing)
1/4 gram decarboxylated kief or decarboxylated hash (ground finely)
You can also use cannabis-infused milk instead
To decarboxylate kief or hash, bake at 275℉ for appx 25 minutes.
2 tablespoons granulated sugar
1 tablespoon vanilla extract
2 cups whole milk
1/2 cup brewed espresso or strong coffee
1/4 cup heavy cream whipped (or canned whipped topping)
Method
Grab a small saucepan and mix the canned pumpkin, pumpkin pie spice, and kief.
Turn on the burner to medium heat and cook the mixture, stirring constantly for about 30 seconds.
Stir in the sugar, and cook for around 30 seconds.
Whisk in milk and vanilla extract, continuing to constantly stir. Do not boil the mixture, but allow it to reach maximum heat.
Next, use a hand whisk or immersion blender to mix until frothy.
Grab two mugs and fill each with half of the espresso or coffee. Pour the hot cannabis-infused pumpkin mixture over the coffee. Add your heavy whipped cream (whipped until stiff peaks are formed) or your canned whipped topping.
Garnish with pumpkin pie spice, cinnamon, or nutmeg.
Enjoy!
Infused Caramel Apples
Caramel apples are always a hit at Halloween time. However, you can make them even better by infusing them with your favourite strain of cannabis. Here's how to make them!
Ingredients
12 apples of your favourite variety
1/4 cup cannabutter
1 cup corn syrup
14 ounces condensed milk
2 cups white sugar
1 teaspoon vanilla extract
12 popsicle sticks
Garnishes such as melted chocolate to drizzle, crushed nuts, crushed cookies, and small candies
Method
1. Wash, dry, and remove stems from all apples.
2. Place a piece of parchment paper on a baking sheet so the apples don't stick once they are finished.
3. Insert one popsicle stick into the top of each apple where you removed the stem.
4. Place the cannabutter, corn syrup, white sugar, and condensed milk into a medium-sized saucepan. Place over medium-low heat, stirring constantly.
5. Use the candy thermometer to determine when the mixture reaches "soft-ball" stage, which is 235 to 240 degrees Fahrenheit.
6. Stir in the vanilla extract and remove the mixture from heat. Allow to cool for a few minutes.
7. Holding a popsicle stick tightly, dunk the apples into the caramel sauce. To do this, place the apple almost entirely into the caramel sauce, leaving a small base at the popsicle stick. Slowly pull the apple out of the mixture while swirling the apple to catch the caramel that will drip off the bottom.
8. Garnish your apples as desired.
9. Allow the apples to completely cool and set before enjoying.
Infused Peanut Butter Cups
Peanut butter cups are another staple at Halloween. This infused version will give you some tasty edibles that will help make the holiday even more fun.
Ingredients
1/4 cup cannabutter
3/4 cup smooth peanut butter
3/4 cup graham cracker crumbs
1/4 cup white sugar
1 cup semi-sweet chocolate chips
1/4 cup heavy cream
Pinch of salt
Muffin tin
Muffin liners
Method
1. Place liners inside muffin tin.
2. In a microwave-safe bowl, combine cannabutter and peanut butter. Place in the microwave and heat for about 45 seconds, until the mixture is slightly melted. Add the sugar and graham cracker crumbs and stir to combine.
3. Spoon about two tablespoons of the peanut butter mixture into each liner. Gently push down. Place the muffin tin in the fridge and let set for at least ten minutes.
4. While waiting for the filling to cool, place the chocolate chips and heavy cream into a microwave-safe bowl. Place in the microwave and heat for about 30 seconds. Remove the bowl, stir, and heat again for another 30 seconds until the mixture is completely combined and smooth.
5. Remove the muffin tin from the fridge. Spoon melted chocolate over each cup, making sure you completely cover the peanut butter mixture. Sprinkle with salt while still warm and place in the fridge for at least another 30 minutes before enjoying.
Infused Cupcakes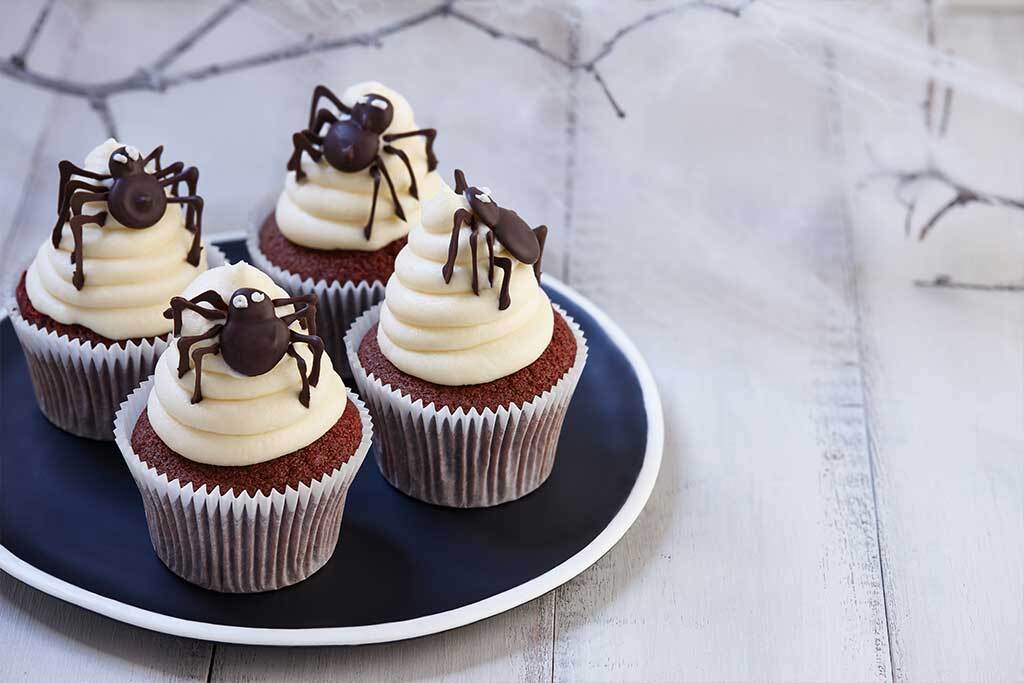 Maybe you didn't get cupcakes when you used to go trick-or-treating. Now though, as an adult, you can enjoy cupcakes infused with cannabis and take Halloween to a whole new level!
Ingredients
2 1/2 cups cake and pastry flour
1 1/2 cups white sugar
1 teaspoon baking soda
1/2 teaspoon salt
6 tablespoons cocoa powder
1/2 cup cannabis-infused vegetable oil
1 cup vegetable oil
1 cup buttermilk
2 large eggs
2 tablespoons red food colouring
1 teaspoon white vinegar
1 teaspoon vanilla extract
For the icing:
8 ounces cream cheese, softened at room temperature
1/2 cup butter
1 teaspoon vanilla extract
3 1/2 cup confectioners' sugar
Method
1. Preheat oven to 350 degrees Fahrenheit. Line 24 muffin cups with paper cupcake liners.
2. Beat together in a large bowl the cannabis-infused oil, buttermilk, eggs, food colouring, vinegar, and vanilla extract with a hand mixer or in the bowl of a stand mixer.
3. In a separate bowl, mix together flour, sugar, baking soda, salt, and cocoa powder. Add the dry ingredients to the mixer bowl and mix just until smooth.
4. Divide batter among prepared muffin cups ensuring each is about 2/3 full. Place in the preheated oven and bake for about 20 minutes, until a toothpick inserted in the center comes out clean. Allow to cool completely.
5. Place cream cheese, butter, and vanilla extract in a large bowl or in the bowl of a stand mixer. Beat until light and fluffy. Lower the mixer speed and gradually beat in the confectioners' sugar until it is fully incorporated. Increase speed and beat until frosting is light and fluffy.
6. When cupcakes are completely cooled, cover with frosting and decorate with Halloween decorations such as plastic witches, ghosts, or even small Halloween candy.
Rice Crispy Treats
These cannabis-infused treats are not the Rice Crispy sweets from your childhood! And as an added bonus, they're super easy to make!
Ingredients
1/2 cup cannabutter
4 cups miniature marshmallows
5 cups of Rice Crispy cereal
Large saucepan
13" x 9" saucepan
Method
Place cannabutter in a large saucepan. Place over low heat and melt, making sure you don't burn the butter.
2. Add marshmallows and stir gently until everything is mixed together.
3. Continue cooking for two minutes, stirring the entire time. Remove from heat.
4. Add cereal and stir until mixture is well combined.
5. Butter the 9" x 13" casserole dish. Press the Rice Crispy mixture into the dish. Coating your hands with butter or oil can help prevent the mixture from sticking to your hands.
6.) Allow to cool completely before slicing and serving.
Cannabis Caramel Corn
Caramel corn is great at any time of year but it's particularly good for Halloween parties and Halloween movie nights. Add some of your favourite cannabis and this scrummy treat gets even better!
Ingredients
12 cups (3 quarts) popcorn (plain and already popped)
1/8 cup cannabutter
1/4 cup regular unsalted butter
1 cup dark brown sugar
1/4 cup honey
2 teaspoons salt
3/4 teaspoon baking soda
1 teaspoon vanilla or maple extract
Method
1. Preheat oven to 225°F and grease 2 large baking sheets with butter (be generous)
2. Melt the cannabutter and regular butter over a medium heat. Stir in the sugar, honey and one teaspoon of salt.
3. Keep stirring the mixture and let it come to a boil.
4. Lower the heat and let the mixture simmer for about 1½ minutes. If you have a sugar thermometer the temperature should be 250°F.
5. Take the pan off the heat and quickly stir in the baking soda and your chosen extract.
6. Immediately pour the caramel over the popcorn and stir/toss to coat evenly
7. Immediately put the coated popcorn onto the baking sheets and sprinkle on the remaining salt.
8. Bake for 15 minutes, remove and break up any large clusters that have formed. Bake for another 15 minutes (so 30 minutes in total).
If you're planning on serving this straight away, make sure that the caramel has sufficient time to cool so it doesn't burn anyone's mouth.
If you want to store it for later, let it cool completely and then put it in an airtight container, preferably lined with greaseproof paper. Put that in a cool, dark place and your caramel corn will keep for a week or so.
Infused Bloody Mary
A good Bloody Mary is a real party treat, especially at Halloween. Make it even better by swapping the vodka for a dash of cannabis tincture to make a Bloody Mary Jane.
Ingredients
1/2 fl oz cannabis tincture
Three dashes Worcestershire sauce (omit if vegan)
5fl oz tomato juice
3 drops Tabasco sauce
1 tbsp lemon juice
Put everything into a shaker and shake vigorously.
Garnish with a lemon twist and/or a stalk of celery. You can also add salt and pepper to taste.
Making cannabis tincture
Ingredients
¾ oz finely ground cannabis
3fl oz alcohol (vodka would be good here)
Method
1. Bake the cannabis at 150°F until it crumbles when you try to roll it between your fingers. This usually takes about an hour.
2. Grind the cannabis to a powder and soak it in water overnight (or for about 12 hours).
3. Drain off the water, put the cannabis powder into an airtight container and pour over the alcohol.
4. Leave in a cool, dark place for 10-14 days (longer is better). Shake as often as you can.
5. Filter to remove solids.
Now that you have so many recipes to make this Halloween the best one yet, what are you waiting for? Get into the kitchen and start making some cannabis-infused treats to make this holiday the sweetest one yet!