If there is any one type of cannabis edible that's become iconic over the years, it's weed brownies. In fact, pot brownies have become so notorious that it's not uncommon for someone to ask, "Is there pot in there?" shortly after being given an innocuous brownie.
So, if you want to embark into the world of edibles, or you've simply never made weed brownies before, now is your chance. Read on to learn how to make cannabutter, a crucial component of any weed edibles, how to properly dose your brownies, and finally, how to create the funnest batch of brownies you've ever had.
How Much Weed to Use?
There are many different recipes for weed brownies out there. The recipe below uses one stick of butter, which is one-half of a cup, that's been infused with 3.5 grams of cannabis. If you cut the brownies into one-inch squares when they are finished cooling, this will give you approximately 29 milligrams of THC per brownie. That is a fairly potent dose, but will still not put you into a coma-like state. If you think that will be too much for you, replace half of the cannabutter with regular butter. That will cut the dose in half.
It's important to properly dose with edibles. If you don't, it could leave you impaired for much longer and even make you feel sick throughout the entire day. To properly dose, eat one brownie and then wait one hour before eating another.
Cannabutter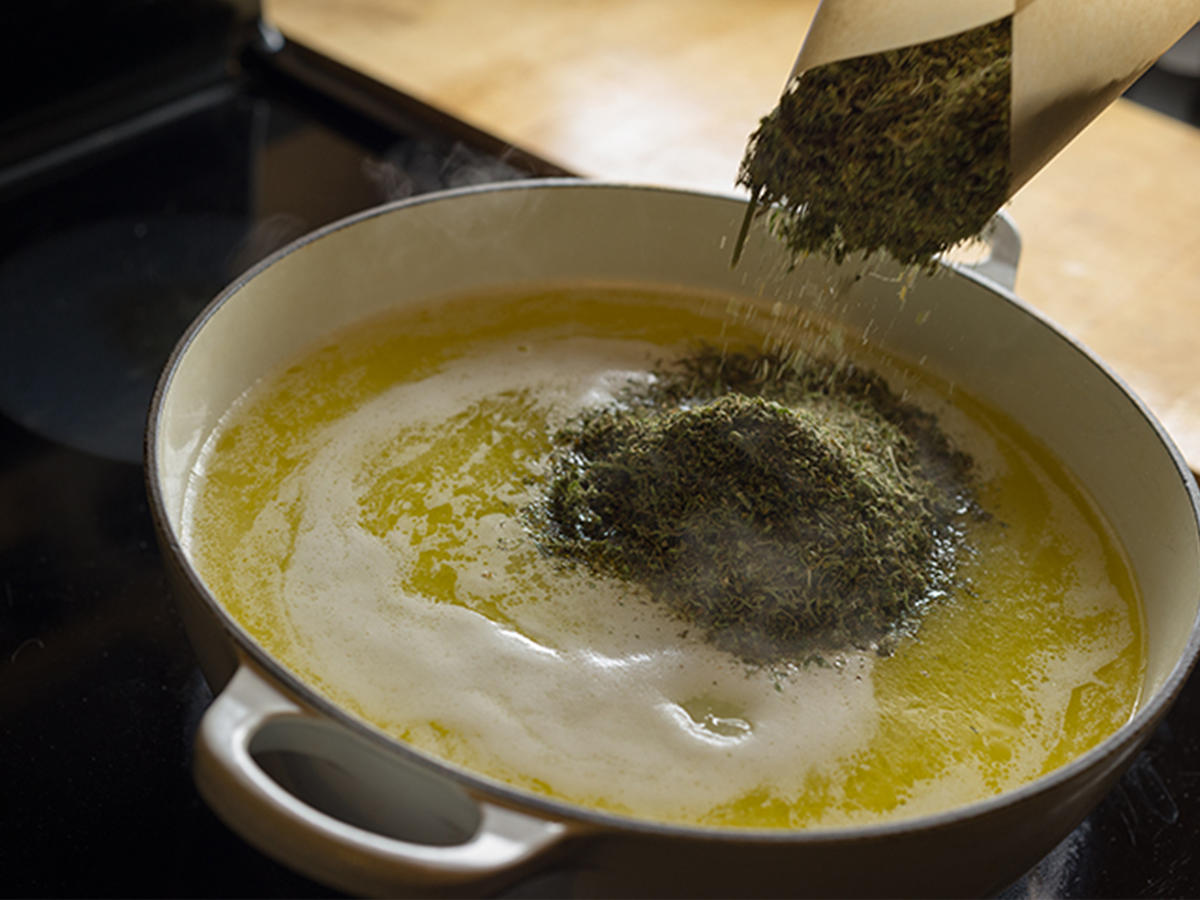 When making any weed edibles, you must first make the cannabutter. Oil can also be used. Cannabis is not water-soluble, so you cannot simply grind it into weed brownie batter and expect to get high. You won't. You need to first cook it in a bit of fat. Before you even do that though, you must decarboxylate it. Decarbing your weed simply means your buds must be heated. This transforms the cannabinoids, mainly THCA, into THC, the compound that will get you high. Fortunately, cannabutter is very easy to make.
Grind 3.5 grams of cannabis into a medium-fine grind. Place it onto a baking sheet and preheat the oven to 110 degrees Celsius, or 230 degrees Fahrenheit. When the oven is warm, place the baking sheet in and bake your weed for approximately one-half of an hour. Stir the weed halfway through to ensure even baking.
While your weed is decarbing, slowly melt half a cup of butter on the stove over low heat. After the weed comes out of the oven, add it to the melted butter with half a litre of water. Simmer the mixture for a few hours, making sure the butter is never heated over a bare simmer. Afterwards the butter should have a thick and glossy texture.
Allow the mixture to completely cool and then strain it through a cheesecloth into a large bowl. Squeeze the bud tightly so as much THC as possible is strained through. Place the butter in the fridge until it completely firms up. If any water separates from the butter, simply wipe it away with a paper towel. Remember, you will only need one-half of a cup of this mixture so store the remainder for more edibles in the future.
Weed Brownie Recipe
Once your cannabutter is chilled and firm, you're ready to start making your pot brownies. Just gather the ingredients and follow the steps below!
Ingredients:
1/2 cup of cannabutter at room temperature

1/4 cup of vegetable shortening

1 cup all-purpose flour

3/4 cup cocoa powder

1 cup white sugar

1 cup brown sugar

1/2 teaspoon salt

1/2 cup bittersweet or semisweet chocolate

1/4 teaspoon baking powder

1/8 teaspoon baking soda

2 large eggs

1 vanilla bean, cut in half with the seeds scraped out
Method:
1.) Preheat the oven to 350 degrees Fahrenheit and line a 9" x 7" baking pan with parchment paper.
2.) In a large bowl combine the flour, both sugars, cocoa powder, salt, baking powder, and baking soda.
3.) In a separate bowl, combine the vanilla beans you've scraped out and the eggs.
4.) Place the chocolate inside a microwave-safe bowl. Set the bowl into the microwave and in about 30-second intervals, melt the chocolate.
5.) Remove the chocolate from the microwave. Stir in the shortening until it melts.
6.) Slowly pour the chocolate mixture into the eggs, whisking the eggs as you do. Fold in the cannabutter. Stir until everything is combined, but don't introduce too much air into the mixture.
7.) Pour the wet mixture into the dry mixture and stir to combine.
8.) Pour the mixture into the prepared baking dish.
9.) Spread out the mixture so it is smooth in the baking dish.
10.) Tap the dish lightly on the counter a few times. This will help remove any air that's trapped inside.
11.) Place the dish inside the preheated oven and bake for 15 minutes. Rotate the pan and bake for another 15 minutes.
12.) Remove the dish from the oven and allow it to cool for at least ten minutes in the dish.
13.) Using the overhanging parchment, remove the brownies from the baking dish. Set on a wire rack to cool completely. This step is important. It will help completely set the structure of the brownies.
14.) When brownies are completely cooled, cut the brownies into one-inch squares.
Brownies are always delicious, but nothing beats weed brownies. You can leave them as they are, or use a simple store-bought frosting to make them even more delectable. Eat the whole pan by yourself, pacing yourself as you go, or invite a few friends over for an extra sweet treat. With this recipe, there's more than enough to go around for everyone!