Northern California. Land of the brave, home of the free, and one of the most fertile breeding areas for top-shelf cannabis genetics worldwide. Northern Cali has long been a weed-growing paradise, but with full recreational legalization coming into effect in California at the start of 2018 ganja farmers have really started to put things into overdrive - that's where the Mimosa story really begins.
So, Mimosa is a Northern Cali strain?
Yes indeed. Coming in hot out of South Sacramento, Mimosa hit the shelves of dispensaries in early 2018, and to say it made a splash in the market would be just a slight understatement. Selling out almost instantly, it has been one of the harder strains to get your hands on ever since it was released. Luckily, a new batch of seeds has recently dropped, so if you're interested in growing your own Mimosa crop - the time is now!
But, where can you find the seeds? Which seed bank bred this gorgeous strain? Is it an easy strain to grow? And just how potent is it?
Stick around, as we take a trip down Mimosa lane, and get to the bottom of all these burning questions.
Where Did The Mimosa Strain Originate?
The magicians over at Symbiotic Genetics are credited with gifting the world Mimosa.
Let's rewind a little though. Symbiotic Genetics is actually a collaboration between two of the biggest names in Cali cannabis breeding - The Village & Budologist. This collab has been a fruitful one, to say the least, with some of the most sought-after strains of the past 4 years being produced by Symbiotic Genetics. I'm talking about the likes of Mimosa, Kobe, Banana Punch, Wedding Crasher, Purple Punch 2.0, and GMO to name just a few.
But the granddaddy behind all of these amazing phenotypes is the flagship Purple Punch F2 male stud. It was this genetic branch that really put Symbiotic Genetics on the weed breeding map, with this line producing some of the very best strains currently available.
And while almost every single strain they release is a winner in its own right, Mimosa sits above the rest of the pack (alongside Purple Punch F2). In the first year she was available for public consumption, she took out the second-place prize at the NORCAL High Times Cannabis Cup in the Hybrid Flower category.
Is Mimosa An Indica Or Sativa Strain?
Mimosa is a Sativa dominant hybrid, with a 70/30 Sativa to Indica ratio.
A cross between Clementine (Sativa) and Purple Punch F2 (Indica), the guys over at Symbiotic Genetics have created something truly special here. The slightly Sativa dominance offers a creative and uplifting high that, at the same time, is a relaxing and calming ride. It is the perfect strain for those wanting to enjoy a focused mental high without being bogged down by a full-on Indica stone.
[block class="BestResponseMedia\FishPigWordpressFix\Block\Post\Widget\Related" ids="18384"]
How Strong Is The Mimosa Strain?
While she's not going to win any world records for her cannabinoid levels, Mimosa is certainly no slouch in terms of potency. With an average THC level of around 20-24% she is most certainly not a strain for novice smokers.
Experienced smokers will find that Mimosa delivers a unique high that hits hard and fast. The initial cerebral head buzz quickly melts a clear and focused high with deep body relaxation, leaving you feeling loose and at ease. This makes Mimosa the perfect strain for those seeking relief from anxiety, stress, and pain. A great smoke option for those looking for pain or anxiety relief during the daylight hours.
Watch out though. If you are someone who finds themselves raiding the nearest cupboard or pantry when you smoke then you might want to keep some healthy snacks close at hand as Mimosa is a true munchie maker.
She has a total terpene count of 1.02%, with Myrcene (0.28%), Pinene (0.15%), and Sabinene (0.15%) featuring the most heavily. These three are backed up by Limonene (0.09%), Linalool (0.09%), and Valencene (0.09%).
This resulting profile offers a fragrant tropical aroma with a deliciously heavy citrusy mouth feel. Orange dominates (fittingly for a strain named Mimosa), while there are hints of lime at the back end. This is finished off with a deep earthiness and some sweeter piney notes.

Is The Mimosa Strain Top Shelf?
Without a doubt.
Mimosa has been one of the most sought-after strains since entering the market. 4 years can be a long time in the world of cannabis genetics, so it is a true testament to this cultivar's strength that she is still one of the most popular hybrid strains worldwide.
She is a stunningly gorgeous strain with massive bag appeal. Giant, bright green buds covered in orange and red pistils, and a thick covering of trichomes.
Is The Mimosa Strain Easy To Grow?
Cultivating a Mimosa crop doesn't pose any real challenges when compared to other hybrid strains. There are a couple of key points to keep in mind though.
Mimosa prefers a temperate climate. If you live in a tropical (or even sub-tropical) climatic zone then you might struggle just slightly with this cultivar. That's not to say that you can't grow this strain in a warmer climate, but just that you will have better results in temps between 22 to 25 degrees Celsius.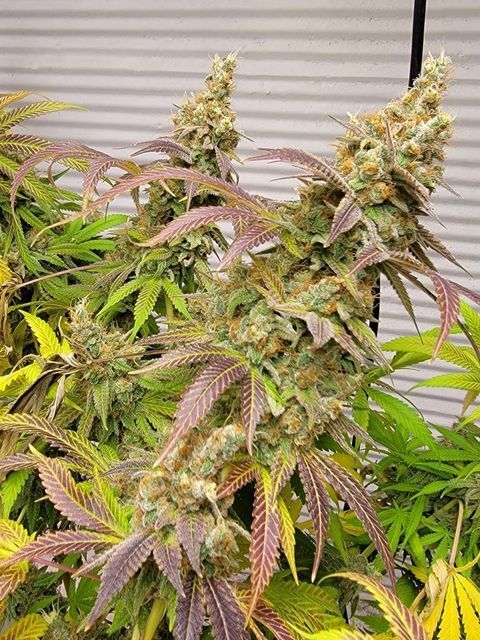 She works great in both indoor and outdoor settings, but be sure to keep a close eye on the humidity levels. For a Sativa dominant strain, Mimosa produces wildly dense buds. While in theory, this is a great feature, it does mean that you can run into some bud rot issues in the final few weeks of flowering growth. As long as you ensure proper air exchange throughout the canopy, and in and out of the grow area, then you should be fine.
She's a big plant and can reach heights of more than 150cm (5 feet). She reacts well to HST methods, so if you are worried about her height then put a SCROG (Screen of Green) screen over to keep her short. This will also result in more uniform bud formation throughout the entire plant.
How Long Does Mimosa Strain Take To Flower?
Anywhere from 65 to 80 days. The guys over at Symbiotic Genetics recommend a flowering time of 10 weeks. We usually like to take the breeder's advice.
How Much Does Mimosa Yield?
That really depends on your cultivation style, but as a general rule - Mimosa is a BEAST. There are reports of growers reaching 700g/m2 indoors, and up to 2000g per plant when left to grow outdoors for the entire season.
Mimosa responds really well to HST, and we suggest topping your Mimosa crop at least 3 times when growing outdoors, or twice when growing under lights. The size of the buds can be a little overwhelming, so be ready to provide some support to the main stem and branches in the final month.