The excitement of Christmas is in the air! As you're wondering how to make this year a bit more festive, you may want to head to the kitchen. Christmas marijuana edibles recipes are the perfect gift for friends and family. And, they can make wrapping all those presents much more fun! Below are some treats, both sweet and savoury, to liven up your holidays this year. All of these delicious Christmas edibles recipes use either cannabutter or cannaoil. These can be used in exactly the same way as you would use regular butter or oil.  In practice, there are a couple of nuances you might want to consider.
First of all, while butter is essentially butter (and your only real choice is salted or unsalted), there's a wide choice of oils out there and they can have very different tastes and beneficial qualities.  That being so, it can be useful to think a little about what specific oil you use.
Secondly, you don't have to swap out all the regular butter or oil used in a recipe.  Figure out your dosage of cannabutter or cannaoil and if need be top it up with regular butter or oil to make the proportions needed for your recipe.
Originally posted 28th November 2018, Updated on 16th December 2021
Top Rated Christmas Marijuana Edibles Recipes
Sugar Cookies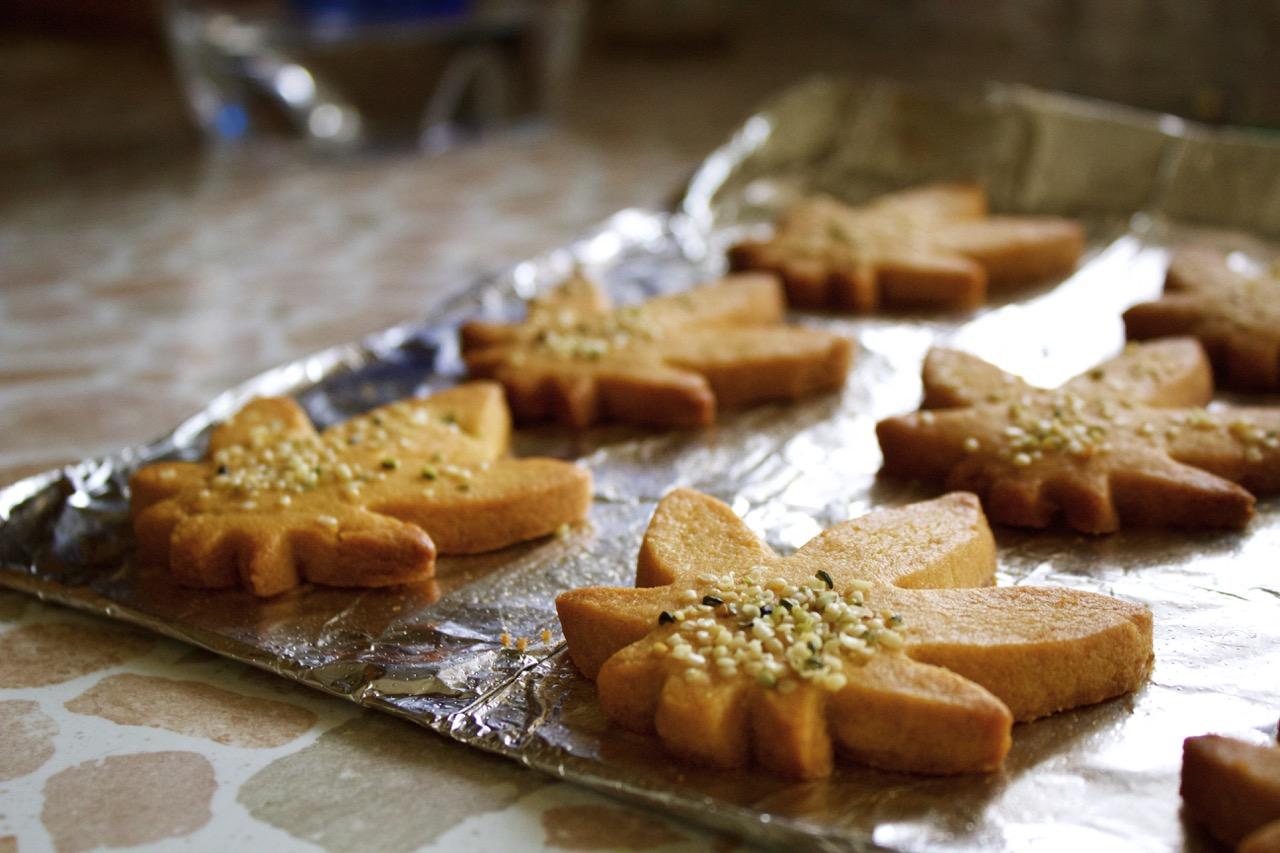 Cannabis cookies are super tasty, and really fun to make. They take some advanced preparation, so just be sure you have the time before diving in. The canna-butter made in the recipe is the same technique for many other Christmas marijuana edibles as well.  
Ingredients:
1 ounce of marijuana

 

1 pound of butter

 

2 cups white sugar

 

4 eggs

 

1 teaspoon vanilla extract

 

5 cups of flour

 

2 teaspoons baking powder

 

Pinch of salt

 
Method:
1.) Decarb the marijuana. This is an essential step when making marijuana edible recipes. Set the temperature in the oven very low, about 250 degrees Fahrenheit. Spread marijuana on a baking sheet and cook for 30 - 45 minutes. Remove from oven, grind, and set aside. 
2.) Place butter in a medium-sized saucepan and set over low heat. Now is the time to make canna-butter. This is another critical step in making weed edibles.  
3.) When butter has melted, slowly stir in marijuana. Simmer on low for 40 - 50 minutes, stirring regularly. Don't let the butter smoke or burn.  
4.) Place a metal strainer over a large bowl. Pour the mixture through. Using a wooden spoon, press on the marijuana to release additional butter. Place butter in the fridge to firm up for about one hour.  
5.) Using just 1 1/2 cups of canna-butter, cream it in a stand mixer or with a hand mixer. Add the sugar and cream until the two ingredients are fully incorporated. The mixture should be smooth.  
6.) Add the eggs and vanilla extract. Mix again to incorporate.  
7.) Combine the flour, baking soda, and salt. Add mixture to the butter mixture in two batches. Allow the first batch to become fully incorporated before adding the second.  
8.) Preheat oven to 400 degrees. On a lightly floured surface, roll dough out to about 1/4-inch thick. Using a cookie cutter, cut into desired shapes.  
9.) Once cookies are cut, transfer to a baking sheet lined with parchment paper. Cook for six to eight minutes, until cookies are just starting to brown along the edges. Remove from the oven and allow to completely cool before decorating with icing and sprinkles.
Cannabis Cocoa
This is perfect for cuddling up with on a cold night. Instead of butter, it uses cannabis milk. The process is very similar.  
Ingredients:
1 ounce marijuana, decarbed and ground up

 

1 1/2 cups full-fat milk

 

2 tablespoons unsweetened cocoa powder

 

2 tablespoons sugar

 

1 tablespoon vanilla extract 

 

Pinch of salt

 
Method:
1.) Place milk into a saucepan. Bring to a boil and add marijuana. Simmer for 30 to 45 minutes.  
2.) Place a cheesecloth into a large bowl, making sure the sides of the cloth hang over the bowl. Pour the milk through and gather the cheesecloth to capture the marijuana.  
3.) Next add one cup of canna-milk into a clean saucepan. Whisk in cocoa powder, sugar, vanilla, and salt. Heat the mixture through entirely and pour into two mugs.  
4.) Decorate with marshmallows and candy canes.
Ganga Glazed Nuts
This Christmas marijuana recipe is both sweet and spicy. Placed in decorative wrapping, these nuts can also make great gifts.  
Ingredients:
5 cups mixed nuts (Brazil nuts, hazelnuts, walnuts, and pecans work particularly well)

 

1/3 cup balsamic vinegar

 

1/4 cup regular butter, melted

 

1 tablespoon canna-butter, melted

 

2/3 cup brown sugar

 

2 teaspoons chipotle powder

 

1 teaspoon sea salt

 

3 pinches cayenne pepper

 
Method:
1.) Place nuts into a large bowl.  
2.) In a small bowl, combine remaining ingredients with a whisk. Pour butter mixture over the nuts. Using a rubber spatula, ensure the nuts are entirely coated with the glaze.  
3.) Preheat the oven to 300 degrees. Line a baking sheet with parchment paper. 
4.) Using the rubber spatula, pour the nuts onto the baking sheet. Smooth the surface so the nuts are in an even layer. Be sure to spoon all of the remaining glaze in the bowl over the nuts.  
5.) Place the baking sheet in the oven. Take out after ten minutes and stir. For spicier nuts, sprinkle on more chipotle powder and salt at this point.  
6.) Return nuts to oven and continue baking for an additional 20 to 35 minutes. When done, the nuts will be shiny and darker in colour.  
7.) Remove nuts from oven and allow to completely cool on the tray. They can then be transferred to a resealable bag or airtight container.
Cannabis Gravy
Holiday marijuana recipes wouldn't be complete without gravy. Spoon over turkey, mashed potatoes, and any other favourite holiday dish.  
Ingredients:
6 tablespoons canna-butter

 

2 onions, thinly sliced

 

2 tablespoons fresh sage, chopped

 

2 tablespoons fresh rosemary, chopped

 

1/3 cup flour
3 to 4 cups chicken or turkey stock

 

Salt and pepper, to taste

 
Method:
1.) Place a skillet over medium heat. Add canna-butter and melt. Add in sliced onions and toss to coat onions in butter. Saute for about ten minutes,
stirring regularly.  
2.) Add in the rosemary and sage and stir. Cook for another ten minutes.  
3.) Sprinkle the flour over the onions and herbs. Stir to incorporate. Cook for two minutes.  
4.) Slowly add the stock, whisking as you do to prevent lumps from forming.  
5.) Bring the mixture up to a boil. Lower the heat and simmer for ten minutes. When turkey is done roasting, add the juices from the pan to the gravy. Taste and season with salt and pepper, if necessary.  
Ganjabread House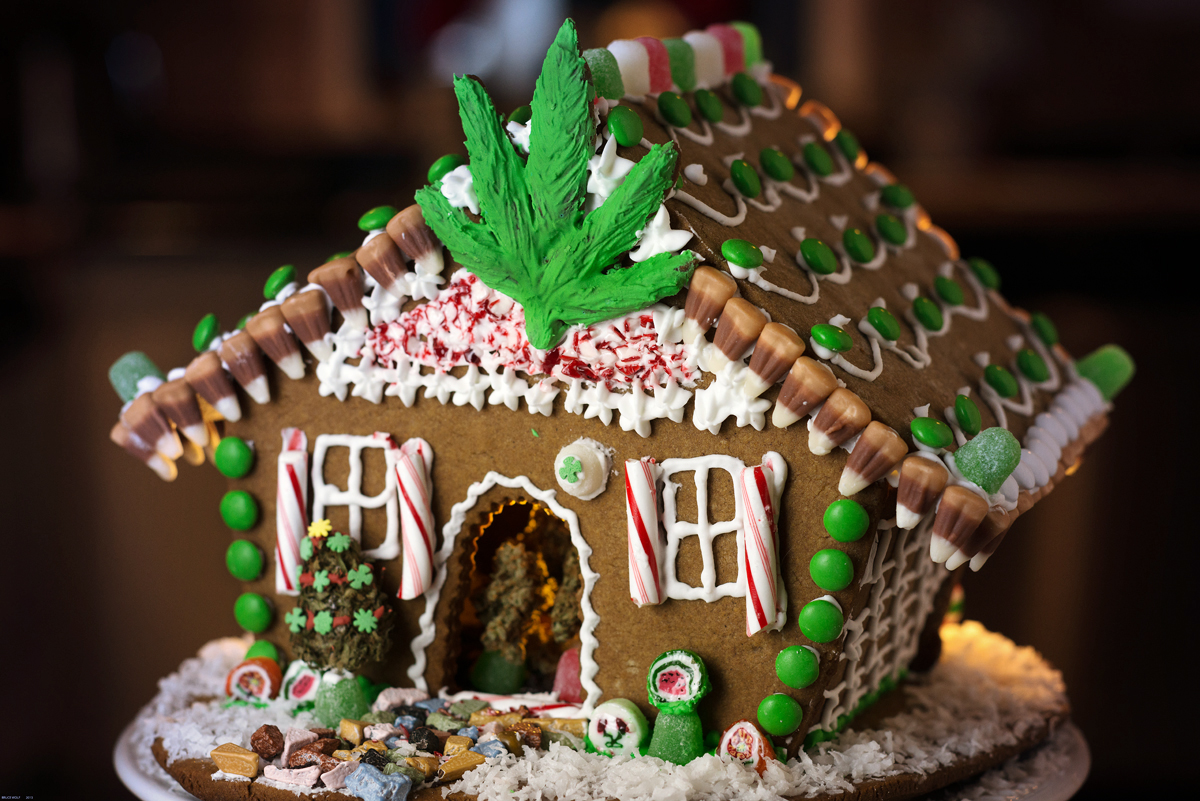 What is a list of Christmas marijuana edibles without a gingerbread house? This recipe includes the actual cookies to make the house, and lots of royal icing for assembling and decorating.  
Ingredients for the ganja-bread:
5 ounces unsalted butter, room temperature

 

3 ounces canna-butter, room temperature

 

1 1/2 cups dark brown sugar

 

2 eggs, lightly beaten

 

1 cup dark molasses

 

1 teaspoon vanilla extract

 

6 to 6 1/2 cups all-purpose flour

 

1 tablespoon ground ginger

 

2 teaspoons cinnamon

 

1/2 teaspoon nutmeg

 

1/2 teaspoon ground cloves

 

1 teaspoon baking soda

 

1/2 teaspoon salt

 
Ingredients for the royal icing:
3 cups powdered sugar

 

2 egg whites

 

1/2 teaspoon cream of tartar

 
Method:
1.) Start by making the ganja-bread. Place both butters in the bowl of a stand mixer and mix until smooth. Add the sugar and mix again for a few minutes until it's light and fluffy. Add the eggs, molasses, and vanilla. Mix again until just incorporated.  
2.) In a large bowl combine the all-purpose flour, ginger, cinnamon, nutmeg, cloves, baking soda, and salt. Whisk well. 
3.) With the mixer running, gradually add the flour mixture to the butter and sugar. Tip the bowl out onto a lightly floured surface and gather into a bowl. Wrap with plastic wrap and place in the fridge for one hour.  
4.) Preheat oven to 340 degrees Fahrenheit. Line two baking sheets with parchment paper and set aside.  
5.) Lightly flour a work surface. Divide the dough in half. Wrap one again with plastic wrap and set aside. Roll out the unwrapped dough until 1/4-inch thick.  
6.) Use templates to cut out the sides and roof of the house, or use your own. Gently lay onto parchment paper. Continue rolling out the rest of the dough, cutting out templates, and placing them on the parchment.  
7.) When all dough has been cut, place the trays in the oven. Bake for 15 to 18 minutes, until the dough is slightly firm when pressed.  
8.) While cookies are baking and cooling, make the royal icing. In the bowl of a stand mixer, beat the powdered sugar, egg whites, and cream of tartar. Beat ingredients together for about seven minutes, until the icing is thick enough to hold its shape.  
9.) Once the icing and cookies are made and ready to use, start assembling the house. After attaching two pieces of cookies together, allow them to set for 20 minutes. Keep the frosting covered with a damp paper towel to keep it from drying out and hardening. Continue assembling the house, letting pieces set after each addition.  
10.) After the house has been completely constructed, allow all pieces to dry. Then use more icing to add decorations, candies, and nuts.
Canna-Cranberry and Sage Stuffing
Stuffing is a quintessential part of any holiday table. In this Christmas marijuana recipe, sage and cranberry make it even more festive.
Ingredients: 
1 day-old loaf of bread, torn or cut into bite-sized pieces

 

1 pound of bacon, chopped

 

2 to 3 carrots, cut in a small dice

 

2 celery stalks, cut in a small dice

 

1/2 onion, cut in a small dice

 

1/2 cup dried cranberries

 

1/2 cup canna-butter

 

1 cup chicken or turkey stock

 

2 tablespoons fresh sage, chopped

 

2 tablespoons cashews, unsalted and crushed

 

Salt and pepper, to taste

 
Method:
1.) Preheat oven to 375 degrees Fahrenheit and grease a 9" x 13" casserole dish.  
2.) Place bacon in a cold frying pan and set over medium heat. Cook, stirring regularly, until bacon is nearly crisp. Remove bacon to a plate lined with paper towel. Remove grease from pan. 
3.) Place the pan back over the heat and add bacon pieces to it again. Also add in carrots, celery, and onion. Season with salt and pepper. Cook for five to seven minutes, until vegetables are soft.  
4.) Add cranberries to the vegetable mixture. Add the butter and the stock and simmer for two to three minutes.  
5.) Remove the mixture from the heat and stir in the sage.  
6.) Place the bread pieces into a large bowl. Pour the mixture from the frying pan over and gently mix. Season again with some salt and pepper. Make sure not to over-mix the bread, but that every piece of bread is coated in the mixture.  
7.) Transfer the bread mixture to the prepared casserole dish. Place in the oven and bake for 25 to 30 minutes, until liquid has been absorbed, and the dish is hot and bubbling throughout.
Cannabis-Infused Hot Cider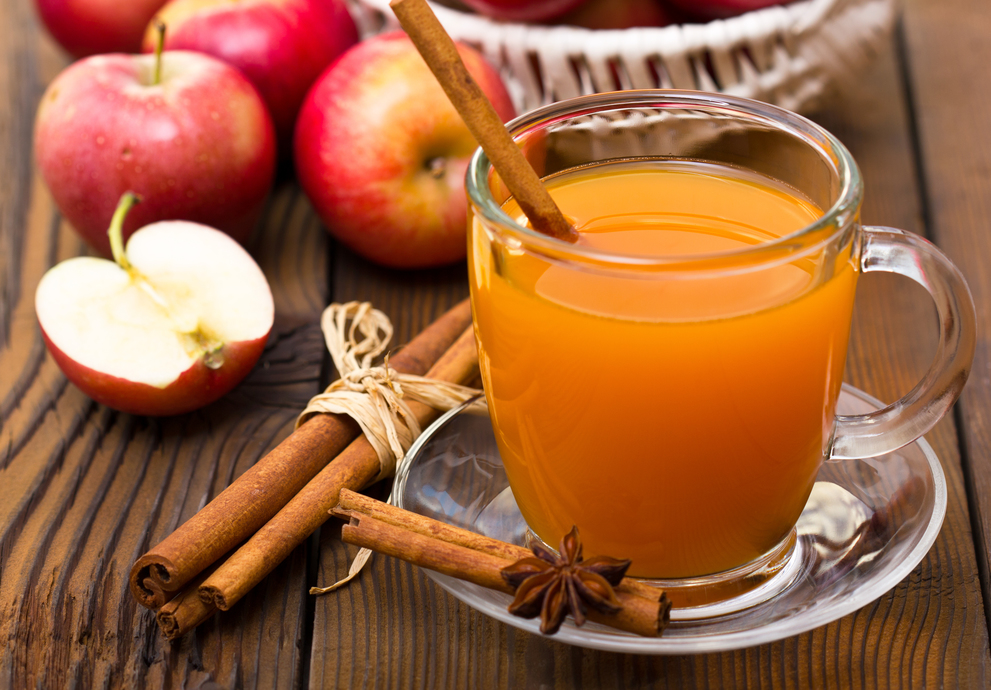 Canna-butter won't work in this recipe. However, the marijuana still needs fat to be dissolved in. Canna-oil works especially well and the leftovers kept for another Christmas marijuana recipe.  
Ingredients for the canna-oil:
3 tablespoons water

 

1 cup coconut oil

 

5 to 7 ounces of decarbed marijuana

 
Ingredients for the hot cider:
1 tablespoon canna-oil

 

2 cups apple cider

 

Cinnamon sticks, for garnish

 

Apple slices, for garnish

 
Method:
1.) Make the canna-oil first. Place the water into a saucepan set over low to medium heat. Bring to a simmer. 
2.) Add coconut oil. Stir frequently to help the coconut oil break down and dissolve into the water.  
3.) Next add the marijuana and stir to blend. Let the mixture simmer for 45 minutes.  
4.) Line a large bowl with cheesecloth, making sure the ends drape over the sides a little bit. Pour the coconut oil over the cheesecloth. Gather the sides of the cheesecloth and press to remove all remaining oil.  
5.) Place the canna-oil in a bowl and set in the fridge for at least one hour.  
6.) When ready to make the cider, place two cups of the cider into a saucepan set over low heat.  
7.) After the cider has been warmed, add one tablespoon of coconut oil. Continue cooking so the oil can blend with the cider. Stir regularly.  
8.) When cider is ready, ladle into two mugs. Garnish with apple slices and cinnamon sticks.  
Cannabis Infused Eggnog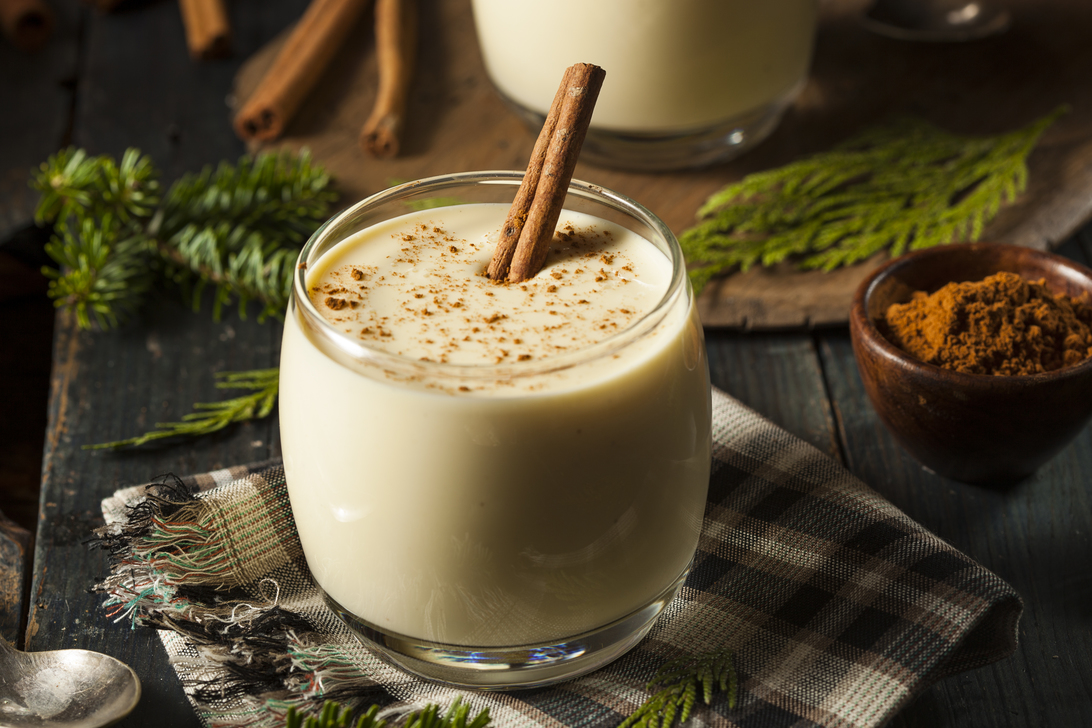 Nothing says Christmas quite like eggnog .  Since eggnog is based on milk and cream, you can't use cannabutter or cannaoil (it wouldn't be the same at all), but what you can do is mix in a little kief to give it that extra something.  If that sounds good to you, then here's a recipe for you.
Ingredients:
1 cup of milk (whole)
1 cup of heavy whipping/double cream
3 egg yolks
½ cup of white granulated sugar
Pinch of salt
½ teaspoon of nutmeg
½ teaspoon of vanilla extract
Decarboxylate kief to taste (½ to 1 gram should be plenty)
Bourbon to taste (optional)
½ teaspoon each of ground cinnamon and nutmeg (combined for topping
Method
1.) Put a heatproof bowl on top of a pot half-filled with water and heat to 185°F
2.) While the water is heating mix together all the other ingredients except the topping and maybe the bourbon.  You can add this now, if you're using it, or you can serve it "plain" and let people add it to their serving if they want to.  Cream them together well so the mixture is totally blended and smooth.
3.) Put the mixture into a freezer proof Ziplock bag (if it can stand the freezer it can stand a water bath).  Squeeze out as much of the air as you can and then put the bag in the water bath for an hour.  It may still seem quite runny, that's fine, it will thicken as it cools.
4.) Remove, let it cool on the counter to begin with and then put in the refrigerator for at least an hour before serving.
Snowball Cannabis Cookies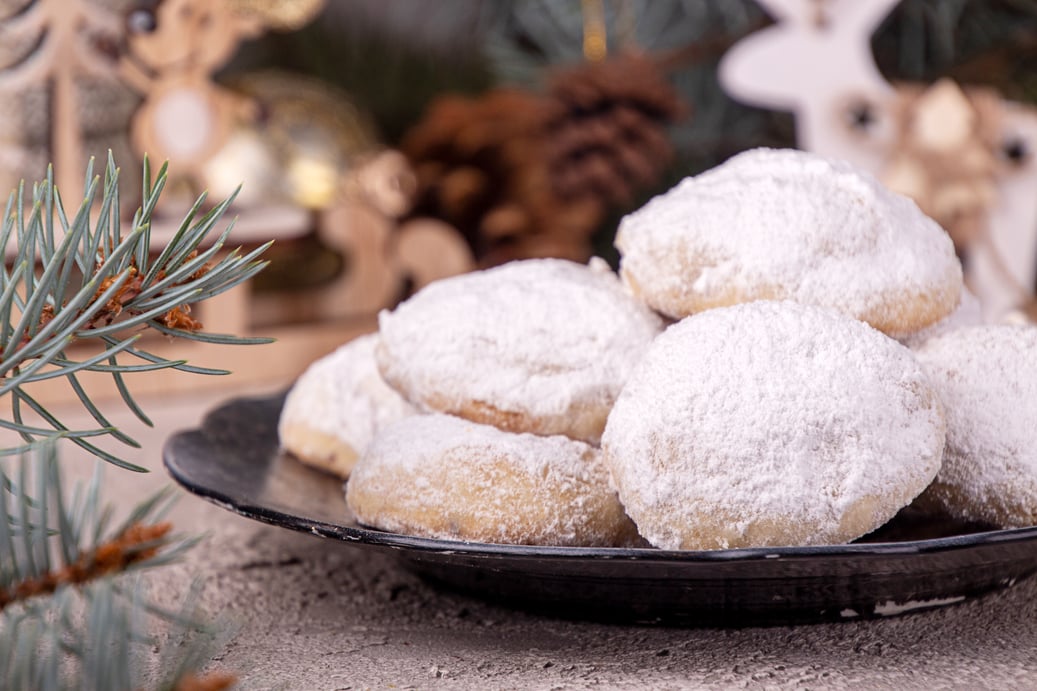 Snowball cookies have to be one of the festive season's top Christmas edibles treats.  In fact, there's only one way to make them even better, which is to swap out some of the regular butter with cannabutter!
Ingredients:
1/2 cup unsalted butter
1/2 cup cannabutter
1/2 cup powdered sugar (plus a little extra for topping)
1 teaspoon vanilla
2 1/4 cups all-purpose flour
3/4 cup finely chopped nuts
1/4 teaspoon salt
Method
1.) Preheat oven to 400ºF/Gas Mark 6
2.) Mix the regular butter, cannabutter, powdered sugar and vanilla together.  When they are well-combined, add the flour, nuts and salt.  Stir well until the mixture forms a dough.
3.) Shape the dough into balls, about 1 inch in size and place them about 1 inch apart on a baking tray.  You don't need to line or grease it.
4.) Bake for 10-12 minutes.  You want a skewer to come out clean and the cookies to be set but not brown.
5.) Roll the cookies in powdered sugar while they are still warm, then leave them to cool and roll them in powdered sugar again.
---
Best Strains For Christmas Marijuana Edibles
All these recipes call for "marijuana" but you might be wondering what would be the best marijuana to use for your Christmas edibles recipes.  In principle, this will depend on your condition or preference.  In practice, there are some strains which people use over and over again.  Here are the ones we'd recommend.
OG Kush – OG Kush is 75% Indica and has plenty of THC and moderate CBD. Its has a flavour which is quite like a good craft beer, one with plenty of hops.  It's generally used for edibles which involve a lot of grains, such as baked goods and trail mix.  If you want to make the latter, then you cannaoil based on coconut oil is your best bet.
Trainwreck – Trainwreck is (slightly) Sativa dominant and has moderate THC (12% to 21%) and just a touch of CBD.  When used in edibles, Trainwreck tends to keep its lemon-and-menthol flavour and aroma.  You therefore want to put it in dishes where this will be a plus like cakes or biscuits.
Blue Dream – Blue Dream is only just Sativa dominant, but it has decent THC (17% to 24%) and quite a bit of CBD (2%). This strain really does have a very distinct blueberry flavour, so again, use it for anything where this is a plus, which generally means sweet treats, especially candies.
Northern Lights – Northern Lights has quite an earthy flavour, with a hint of pine, which is good news for people who want to make savoury edibles.  If you want to use this strain in sweet dishes, then you might want to increase the sweet ingredients, which might mean adjusting some of the other proportions.
White Widow – White Widow leans slightly to the Indica side, but still has anything between 18% and 25% THC. It's known for its very smooth effect which uplifts without overpowering and relaxes without leaving you couchlocked for hours on end.  It's peppery and lemony flavours lends itself to be used for savoury dishes, but it can also make a good choice if you're going for a blend of sweet and sour.
Whichever strain you choose, remember that you want to do your best to distribute the cannabutter/cannaoil evenly through your recipe so always stir well, especially with high THC strains as you will need to distribute the resin crystals through the cannabutter/cannaoil and hence through the dish.