The OG Bruce Banner strain hit the cannabis cup scene all the way back in 2009, and to say that it made waves would be heavily understating the tsunami effect it had on the cannabis world. A hybrid cross of Strawberry Diesel and OG Kush, this was a truly ground breaking offering that changed what many thought weed genetics were capable of.
But how many different Bruce Banner strains are there? Which one is the most potent? What's the terpene profile all about? Is it an Indica or Sativa dominant cultivar? And is it easy to grow?
Don't go anywhere. You and I are going on a little trip down memory lane, as we look at everything there is to know about the Bruce Banner weed strain, in all its iterations.
How Many Bruce Banner Strains Are There?
Originally gifted to us by the world-renowned breeder Jason Holck (of Dark Horse Genetics in Los Angeles), at first there were 5 different Bruce Banner phenos that were being played around with. These were imaginatively named #1, #2, #3, #4, and - you guessed it - #5. While all five showed some real promise, it didn't take long for #2 and #4 to be discarded so the breeders had time to really work the others.
And so down the breeding route these three went, working through generation after generation until all three had stable genetics. But, it didn't take long before the guys at Dark Horse realized that Bruce Banner #3 was something pretty special…
What Is Bruce Banner Number 3?
We just mentioned that this strain is special.
But why? What made it stand out from the crowd back in 2009?
Bruce Banner #3 seeds, the most popular and only variety of this strain that we stock, has a bunch of fantastic qualities, there's one thing in particular that made her something quite exceptional - her THC content. Back in 2009, there were only a few strains tipping the scale at over 25% THC, and none of those were above 28%.
But Bruce Banner number 3? Let's just say that the name is apt. An incredible hull in all ways. Not only did this strain clean up at The Denver High Times Cannabis Cup 2009, it was also the very first strain to hit the 30% THC mark. This was absolutely landmark stuff back then, and even now, 13 years later, there aren't a bunch of strains sitting at 30% THC.
But that's not the only thing that makes this fantastic strain a winner. It also comes with a downright delicious terpene profile, a huge yield potential, and just ridiculous amounts of bag appeal. BB3 quickly became one of the go-to strains for hobbyists and commercial growers alike. If you were smoking weed back in 2009 to 2013, there's a really high chance you were smoking Bruce Banner number 3. That's the case not just for American stoners, but also for our pothead cousins in Europe, Australia, Russia, and pretty much everywhere else top-shelf flower was available.
Not since the likes of White Widow and AK-47 had we seen the cannabis world be so heavily dominated by one strain at one time.

What Is The Strongest Bruce Banner Strain?
I mean, at this point, it is pretty obvious that the top awards for strength goes to Bruce Banner #3. But what about the other Bruce Banner strains?
Since numbers 2 and 4 were cut from the range pretty quickly, the specifics of these strains are pretty murky. But since then there have been some other notable offshoots. Lets run through the ones available right now.
| | | | |
| --- | --- | --- | --- |
| Phenotype Name | Indica / Sativa % | Flowering time | THC content |
| Bruce Banner Number 1 | 50% Indica / 50% Sativa | 60 to 65 days | 27% |
| Bruce Banner Number 3 | 40% Indica / 60% Sativa | 8 - 10 Weeks | 30% |
| Bruce Banner Number 5 | 35% Indica / 65% Sativa | 9 - 11 Weeks | 29% |
| Bruce Banner Autoflower | 40% Indica / 60% Sativa | 8-10 Weeks | 25%+ |
| Bruce Banner Fast Flowering | 60% Indica / 40% Sativa | 8 Weeks or less | Over 25% |
Is Bruce Banner A Purple Strain?
It can be, depending on the climatic conditions during flowering. Strains have a much higher chance of displaying purple and magenta hues if they are allowed it sit in cooler than usual temperatures while the lights are off, or if grown outdoors in slightly cooler than ideal temps.
Day temps should be capped at 25 degrees Celsius, and you want the night time temps to drop below 20 degrees Celsius for the best chance of Bruce Banner strains to turn purple
What Terpenes Are Found In Bruce Banner?
The dominant terpene in bruce banner is Myrcene, which offers a herbal and diesel flavor. This is backed up by Humulene and Caryophyllene in equal parts, and finally Limonene.
This mix offers a really nicely balanced overall flavor and aroma, with the punchiness of the diesel starting things off, and the citrusy floral notes rounding it all out.
| | |
| --- | --- |
| TERPENE NAME | TERPENE PERCENTAGE |
| Myrcene | 0.3% |
| Humulene | 0.2% |
| Caryophyllene | 0.2% |
| Limonene | 0.16% |
Is Bruce Banner hard to grow?
No, in fact, Bruce Banner is known as being a particularly easy strain to cultivate. It can handle a wide range of climatic conditions and thrives in both indoor and outdoor situations. One of the first mega-yielding plants, you can expect to pull upwards of 700g/m2 when grown indoors in perfect conditions, and outdoors it can turn into a true beast.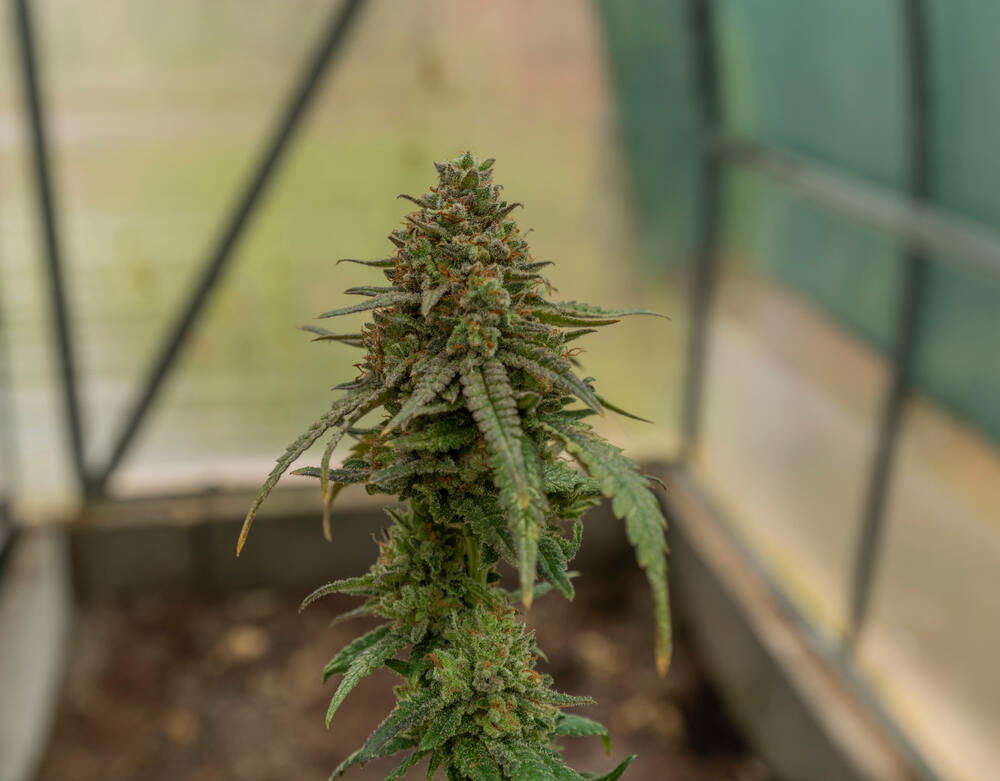 How tall will Bruce Banner grow?
When growing indoors, that is totally up to you. We suggest a veg period of 4 to 6 weeks - in that time she shouldn't grow much taller than about 140 to 150 cm.
But if she is planted early enough outdoors, and you have an ideal growing season, this strain can reach heights of more than 3 meters. A true Incredible Hulk! If this happens you can expect to pull multiple pounds of the flower off each plant.
When should I harvest Bruce Banner?
As with all strains, you let the trichomes tell you when to cut. Most cultivators like to pull their crop down when there is a 70%/30% split between cloudy and amber trichomes, but that's really up to you. If you prefer a more cerebral high, you can cut her a little earlier. If you are more of a pothead couch potato then you can let her run a few days longer.
Conclusion
The Bruce Banner strain changed the game and should be on every self-respecting stoners list of must-try strains. And, even after more than a decade, is still seen as a pure top-shelf cultivar. So what are you waiting for? Get after it!