White Widow strain first became popular in the mid-90s, when it was first created in the Netherlands by Green House Seeds. But today it will be found on most coffee shop menus in Amsterdam, and in dispensaries around the world. White Widow has attained legendary status and is thought by many to be one of the best strains for anyone to smoke.
The genetics of the strain can be linked back to a Brazilian sativa landrace that was crossed with a South Indian indica strain that was extremely heavy with resin. The strain is sativa dominant, with sativa making up 60 percent of the plant. This means that users will first feel a euphoric, happy high that will settle quickly enough into a heavier, more sedative high, due to the 40 percent of indica that's in the strain. The THC content of White Widow is typically around 20%, making it a very potent high all around.
There's no doubt that White Widow is known as one of the most iconic strains available. And because of that, it's given birth to many sub-strains including White Russian, White Rhino, and Blue Widow. However, most connoisseurs still prefer the original over any other strain.
History of White Widow
White Widow has undoubtedly become one of the most popular and the most sought-after strains in the world today. And while this is always indicative of a great strain, it also means that the history can become somewhat muddled and confused along the way.
Because White Widow does bring such a wonderful high that's become synonymous with "great marijuana", it's available at just about any seed bank, dispensary, or coffee shop today. And many of these locations have their own breeders that breed and grown their own unique strain of White Widow. While these versions are very true to the original strain for the most part, it also creates the question of who was the first to create it.
Most cannabis experts, especially those familiar with the histories of different strains, agree that the original breeder was Shantibaba, who at the time was co-owner of Green House Seeds in the Netherlands.
The story goes that Shantibaba was traveling in India, where he met a man who was kind enough to split a joint with him. After being amazed at the indica strain he was smoking, and noting it was one he'd never tried before, Shantibaba left the mountains of India with several fresh seeds from this new strain that excited him so much. Eventually, Shantibaba crossed those male seeds with the Brazilian sativa mother, and White Widow was born.
Since that time, the strain has gone on to win many prestigious awards, most notably the 1995 Cannabis Cup.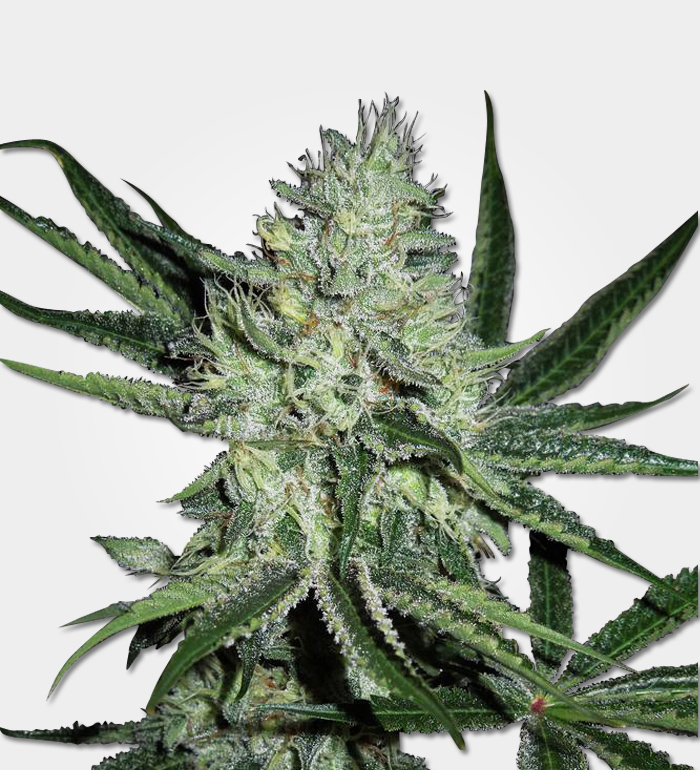 What is White Widow strain like to smoke?
Before they've even smoked it, the first thing users typically notice about White Widow weed is that it's almost weighed down by the heavy white crystals that encase the buds – hence how it got its name. Some have even said that White Widow looks like it's covered in sugar because it's so laden in crystals.
That look carries through to the taste of the strain as well. While it will start off a bit sugary, White Widow mellows quite quickly into an earthy scent, similar to a combination of wood and pine. Some have even noticed pepper notes mixed in as well.
White Widow weed is super stinky. It's suggested that those worried about discreetness find a quiet place away from crowds to smoke. However, once the effects kick in, one may want to find a social setting.
Strain effects
That's due to the sativa effects of the strain. As soon as the effects begin, users are overcome with a very happy and uplifted feeling. Stress seems to melt away, and some may even enter a very creative state, whether it's rearranging furniture or finishing a manuscript.
Because of these effects, White Widow is one of the best strains out there for those struggling with stress, anxiety and depression. White Widow is simply uplifting, and makes one feel better about the world around them. The strain has also been said to be highly effective when treating migraines and other chronic pain.
Once the sativa effects have passed, White Widow then moves into its indica effects. This is the portion of the strain that makes users feel sleepy or tired, and is the reason why White Widow is so good at battling fatigue.
Some users have reported some negative effects while consuming White Widow. Most of them are very similar to smoking or using other strains of cannabis as well. The biggest one is dry mouth and dry eyes, which can also cause red and itchy eyes. Paranoia also seems to be a factor when it comes to White Widow, leaving some users feeling a bit unsettled while smoking.
Growing White Widow
Both indoor and outdoor setups are appropriate for White Widow however it is easier to control the variables of growing when this particular strain is grown indoors. It mostly does well in warmer settings, making it unsuitable for outdoor crops in significantly cold climates. Whether it's grown indoors or out, White Widow is fairly resistant to pests and diseases.
Growers can expect a yield of about to 18 ounces per square meter, and it's a plant that grows to a medium height. Growers with these types of setups, can expect an average flowering time of about 8 to 9 weeks.
While White Widow might be a bit harder to control outdoors, it's here that it will also produce the highest yield – on average about 21 ounces per plant. Outdoor growers can expect a harvest around the end of October.
Why you should have white widow in your next grow room
White Widow has been a favorite strain among cannabis enthusiasts for almost three decades, and it's no secret why. One of the most perfect hybrids on the market, this is a strain that will allow users to both relax, and get together with friends for a night out.
These are partly the reasons why patients find such benefit in the strain's medicinal effects, too. White Widow is one of the best strains for blasting away anxieties, due to its happy and relaxed effects. Once that effect wears off and it moves more into its indica roots, patients will find that it brings them much-needed pain relief and a solution for sleepiness.
White Widow may have exploded in popularity even more so after being prominently featured on the HBO TV series Weeds and being referenced by many different hip hop artists in their work. But this strain goes much further than that. Users know that any strain that appears time and time again on coffee shop menus around Amsterdam and the Netherlands has got to be a good one. White Widow is, and that's how it became legendary, if you haven't grown it yet now is your chance.