All You Need to Know About OG Kush Strain
Sometimes you want a cannabis strain that will mellow you out and relax you when nothing else will. Other times, you might want a strain that gives you that euphoric, giggly high that makes you incredibly happy and light-hearted. OG Kush is a strain that's 75% Indica and 25% Sativa, and will give you both. OG Kush is known around the world as being one of the best strains of cannabis out there, and you can tell just by looking at its crystal-laden buds that it will give you the high you're looking for.
Origin
OG Kush is such a good smoke that it's appeared in many rap songs, one in particular by Cypress Hill in which they referred to the strain, as well as the term "original gangsta." However, the "OG" in the name actually means "Ocean Grown," because it was propagated beside the ocean, under the California sun.
A Californian grower by the name of John had a plant of ChemDawg, which he shared with two other growers, named Jerry and Harold. In the early 90s, these expert growers crossbred the ChemDawg plant with a Thai Lemon and Old World Paki Kush hybrid. From there, OG Kush was born. During the late 90s, Harold sold some of his OG Kush seeds to multiple growers in the San Fernando Valley. Although you can find OG Kush just about anywhere today, it's the dominant strain being sold in Southern California today.
Flavor and aroma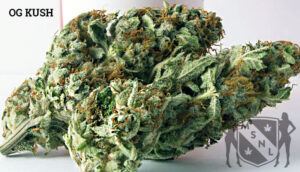 Sweet, citrusy, earthy, diesel, spices, and pine are just some of the descriptions given to the taste and aroma of OG Kush, and they're all accurate. OG Kush provides a nice, smooth smoke that is tasty and delicious. While the bud is burning, the most common description given to the aroma is "lemon on a barbecue." This is just one more reason why Kush is so good, because it doesn't smell like weed as much as it does a cook-out.

While OG Kush is being grown however, it gives off more of a skunky aroma than it does a lemon or barbecue smell, so it's advised that some sort of odor control be used, especially while the plant is in its flowering stage.
Effects

So how does OG Kush deliver both a euphoric high along with one that is relaxing and mellow? It's just another amazing characteristic of this cannabis strain! OG Kush contains 24% THC, which provides the happy and euphoric high, which makes it ideal for those struggling with depression issues such as PTSD and bipolar disorder.The euphoric high is mainly what this cannabis strain is known for, but in addition to its cerebral effects, OG Kush is also known to provide a great body buzz, thanks to its 0.23% CBD content. It's this sleepy, trance-like high that makes the strain so ideal for people who suffer from insomnia, stress, or just find it difficult to relax and unwind. Because of this heavy body buzz however, it's recommended not to overdo it with this strain, especially to first-time users.
There are other ailments that OG Kush is known to be very useful at helping treat, as well. These include nausea, stomach disorders, chronic pain, nervous conditions, and headaches and migraines. Alzheimer's patients have also found it very helpful when trying to slow the progression of the disease.
While OG Kush is about as perfect as you can get when it comes to different cannabis strains, dry mouth, dry eyes, paranoia, headaches and dizziness are all side effects that have been reported by some users. However, many of these side effects are those that come with marijuana in general, and are not necessarily specific to OG Kush.
Growing OG Kush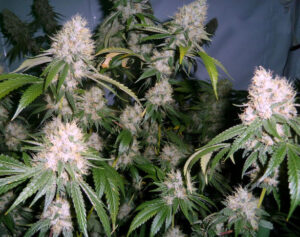 OG Kush can be difficult to grow, which is why it's recommended that it be grown indoors where the conditions can be better controlled. It is a bushy plant, growing close to the ground, but some OG Kush plants have been known to grow to 3 meters tall. The fact that this plant produces huge, dense clusters of buds that are lime green (almost neon!) in color, and laced with heavy resin throughout.
OG Kush also produces a lot of branches, which can become heavy, so regular pruning and stressing is most recommended to maximize the yield of the plant. OG Kush has a flowering period of 55 days, causing it to be ready for harvest in early October, when it is grown outdoors.
OG Kush is one of the most popular cannabis strains in the United States and around the world. Not only does it provide a nice body buzz, along with a happy and euphoric feeling, but it also has astounding medicinal properties that can help patients suffering from a number of ailments. The smooth taste and pleasant aroma also add to the pleasant smoke OG Kush provides.
To buy OG Kush Marijuana genetics at the best price click here