New Year's Eve is just around the corner and everyone has their own way of celebrating. Maybe you like to head out and light up the town, whether it's at a club or going to a party. Or maybe you're more the type that likes to stay cozy indoors and watch movies or binge-watch your favorite Netflix show. Whatever kind of New Year's Eve you enjoy, there's a cannabis strain that will help you light up the night and ring in the New Year in the best way.
Super Silver Haze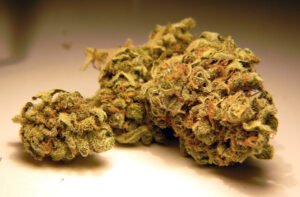 Any cannabis strain that includes the term 'haze' is going to guarantee a party and of them all, Super Silver Haze may just be the best. This sativa-dominant strain offers a totally cerebral high which can keep party guests inventing the best high-dhttps://www.marijuana-seeds.nl/feminized-seeds/sativaeas in between bouts of laughter. And when the party goes well past midnight, it will help party-goers stay awake and be one of the last to leave with lots of fun new memories.
Buy Super Silver Haze here.
Strawberry Cough
Another stay-awake and giggly smoke for New Year's Eve is Strawberry Cough. In fact, there may be no other cannabis strain that provides quite the effects that Strawberry Cough provides. The high is immediate but can keep on going long enough to have other party-goers asking, 'What are they laughing at?' And while it's true that a toke taken too deeply may result in a bit of coughing, there's a very good chance that you won't care. Plus, if it's particularly cold and snowy wherever you're ringing in the New Year, you'll get a little taste of summer berries with every hit.
Train Wreck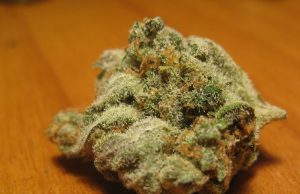 Some people go out on New Year's Eve with the sole intention of becoming a train wreck. And when that happens, there's no better cannabis strain to help with that than well, Train Wreck. This strain is the powerhouse of party strains as it's mostly a sativa and has that distinct skunk smell that will provide the perfect ambience for any party. The energy it provides will be enough to keep on their feet and dancing the night away.
Durban Poison
If you find it hard to get your hands on some Train Wreck for New Year's Eve, Durban Poison may be the next best thing. Durban Poison has a high that can be described as super trippy, making you and those you choose to share it with feeling happy, uplifted and energetic. With a THC content that can reach up to 18 percent, it's not difficult to see what brings that happy high.
Jack Herer
Jack Herer is a special cannabis strain that has a lot to bring to any night, and New Year's Eve is definitely no exception. A sativa dominant strain, it provides all the giggly fun that one would expect from a sativa, but it also takes a lot to drag one down – meaning that the fun can go on well after the clock has struck midnight and partiers can enjoy the first few moments of 2022. While enjoying them, it'll be easy to look towards the New Year filled with hope too, as Jack Herer is known for its feelings of well-being it brings.
Sour Diesel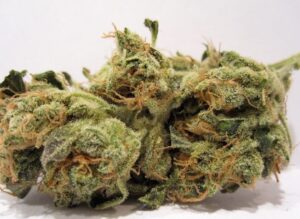 Light up Sour Diesel in a crowd and you'll be sure to have people crowding around for a hit of their own. Its distinctive pungent aroma similar to gas is unmistakeable and those who know it know it well. It's all about the cerebral high with this sativa, so you can be sure it will leave you feeling energetic and joyous. And when you share it with fellow partiers, you'll likely find yourself striding into the New Year with some newfound friends.
Amnesia Haze
Another cannabis strain from the Haze family, Amnesia Haze is another great strain to bring to any New Year's Eve bash. It's giggly, it's euphoric, and it will definitely provide an instant pick-me-up for anyone looking to bring the fun to the party. But the real reason Amnesia Haze is one of the best strains to have on you on New Year's Eve? It doesn't have a ceiling. So if you want to smoke all night without shutting down, this is the strain for you.
Blue Dream
For those that want to be awake to see the clock strike midnight on New Year's Eve, but also don't want to have so much energy they feel like they're jumping out of their skin, Blue Dream is the perfect cannabis strain. It provides some giggles, lots of alertness, and is simply a really cool smoke all around. But it's super mellow. So for the types that just like to hang back and watch those on the dance floor, or want to stay awake for a Netflix marathon, it'll help with both without putting anyone to sleep.
Bubba Kush
If you're idea of a great New Year's Eve is just hanging at home while chilling out with your favorite show, then Bubba Kush may just be the strain to help you ring in the New Year. It's seriously laidback which may be just what you need following the rush of the Christmas holidays. Don't be too heavy-handed with it though. This one is an indica strain with a serious knockout punch and if you smoke too much, you may miss the biggest part of New Year's Eve altogether.
Girl Scout Cookies
Girl Scout Cookies is also an indica dominant cannabis strain, but it's one that really packs a punch. The average THC content in this beauty is around 22 percent this strain will provide a serious body stone but when used in moderation, still provides the ability to focus on those movies or television marathon. The slight haziness it does bring will be just enough to allow you to forget about the somewhat dismal days of 2017 while getting you ramped up to ring in 2018.
There are many different types of New Year's Eve celebrations. And regardless of whether you're headed out to a friend's party, or just chilling at home, there's a strain of cannabis that will help you do it.